Parleys are on across ministries on prioritising issues to be taken up by the government during US President Barack Obama's India visit next week.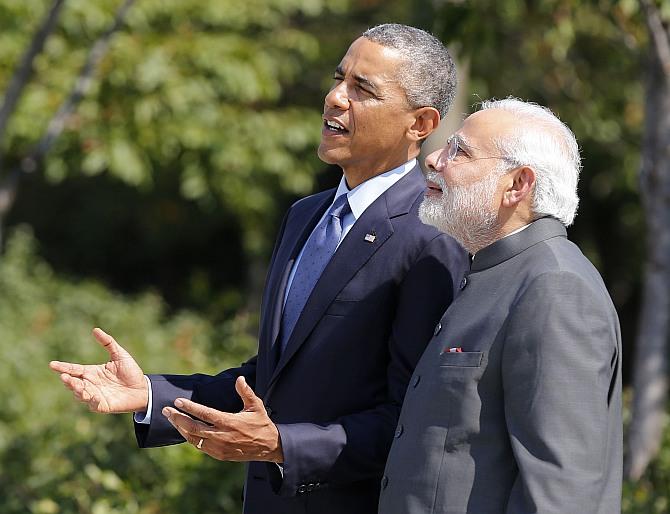 Image: US President Barack Obama and Prime Minister Narendra Modi at the National Martin Luther King Memorial on the National Mall in Washington. Photograph: Larry Downing/Reuters
India is expected to strongly push for a bilateral totalisation agreement with the US during President Barack Obama's visit later this month.
The agreement is likely to bring relief to teeming Indian professionals working in the US.
The matter also came up for discussions during Prime Minister Narendra Modi's visit to the US in September last year.
Since then, the talks have seen much progress, claim sources.
Both sides now seemed to have reached some sort of conclusion wherein it has been decided "some amount" of social security and medicare taxes paid by the Indian professionals working there will be repatriated, a senior official told Business Standard.
"We have already shared the draft agreement with the US government. We have proposed to them that we want to avoid duplication in payment of social security by Indian professionals working in the US on temporary work visas…
This is going on for decades but this government is serious about the issue," the official said.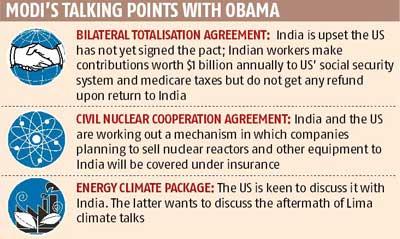 There are about 35,000 Indians working in the US, of which most are in the information technology (IT) sector.
These workers lose their social security contributions and taxes paid for medical care made by them while working in the US.
According to Nasscom estimates, Indians on H1 and L1 visas pay $1 billion in social security taxes in the US annually, without getting any benefits.
Prime Minister Modi has, this time, decided to make it a priority under the India-US Strategic Partnership.
Besides, during their bilateral meeting likely to be held on January 25, Modi is also expected to take up energy and climate change issues with Obama.
The foremost item will be signing of the commercial agreements under the US-India Civil Nuclear Cooperation Agreement.
A contact group on advancing the implementation of civil nuclear energy cooperation, set up during Modi's US visit, have met twice to work out the modalities so the deal, which was signed in 2008, could be implemented.
The deal has been stuck because US had reservations about India's Civil Liability for Nuclear Damage (CLND) Act of 2010.
It seems the department of atomic energy (DAE) was working on an insurance plan to give some respite to GE-Hitachi and Toshiba's Westinghouse Electric Company that are planning to enter into an agreement with state-run Nuclear Power Corporation of India (NPCIL).
The ministry of external affairs (MEA) is yet to announce the final itinerary of Obama's visit as an advance team, which is going to finalise the agenda, is visiting India only next week.
Parleys are on across ministries on prioritising issues to be taken up by the government.
The advance team will be accompanying US Secretary of State John Kerry, who will be meeting Modi on the sidelines of a Vibrant Gujarat seminar.
Modi and Obama will also be meeting at a time when the Lima climate talks have recently concluded.
US has expressed keenness to discuss an energy climate package with India. Kerry is learnt to be in-charge of handling the issue with India.