The Indian benchmark remained static in its last closing on May 28, while Brent prices dropped further to $75.71 a barrel. Less Brent crude in Indian basket makes prices sticky.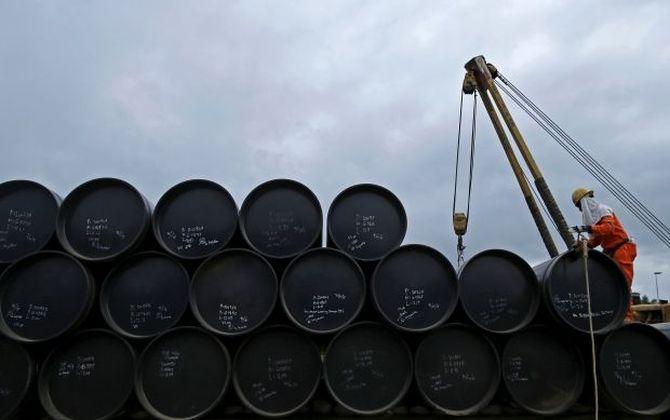 In the last 10 days, Brent crude prices have dropped by 4.35 per cent after Saudi Arabia and Russia promised to increase output, but the price of the Indian crude oil basket has dropped only 1.9 per cent.
The Indian benchmark does not record the same fall as the price of the London-based Brent, which is followed by most international oil traders, because Brent has a share of around 27.62 per cent in the Indian basket.
From $78.09 a barrel on May 18, Brent crude prices dipped to $74.69 a barrel on May 28, while the Indian basket prices saw a smaller decline from $77.43 to $75.95 a barrel.
The Indian benchmark remained static in its last closing on May 28, while Brent prices dropped further to $75.71 a barrel.
"This will be a temporary scenario. Indian prices will also come down as these are also dependent on Oman and Dubai prices," said K Ravichandran, senior vice-president of ICRA.
On the other hand, another expert said the prices of long-term and short-term contracts too were dependent on it, because of which there was a lag between both the prices.
After international prices touched $80 a barrel, OPEC nations and Russia jointly indicated that production of crude oil may be increased by 1 million barrels a day.
However, experts are of the opinion that with production in Venezuela moving towards a complete shutdown, the decline in international prices may well be a temporary measure.
The Indian crude basket is a weighted average of the prices of the Oman and Dubai sour crude prices and Brent sweet crude.
While sour crude has a high quantity of sulphur and the processing cost is higher, the sulphur content in sweet crude is lower.
The ratio of the Oman and Dubai benchmark and Brent in the Indian basket during 2016-17 was 72.38:27.62.
The Indian basket price is considered a pointer to the imported crude price in India.
Though crude oil prices are falling, retail prices of petrol and diesel increased for the fifteenth day in a row, scaling a new peak of Rs 78.43 a litre and Rs 69.31, respectively, in Delhi.
"The retail prices are not coming down as we follow a 15-day average of international product prices," Ravichandran added.
The prices in Mumbai touched an all-time country high of Rs 86.24 a litre for petrol and Rs 73.79 for diesel on Tuesday.
The base prices for the two products are bench marked to their respective global benchmarks.
The current fall in global prices will only be reflected next week.
Photograph: Reuters