Some of the firms that have witnessed major drop in analysts' coverage include Dish TV, YES Bank, and JSW Energy.
Illustration: Dominic Xavier/Rediff.com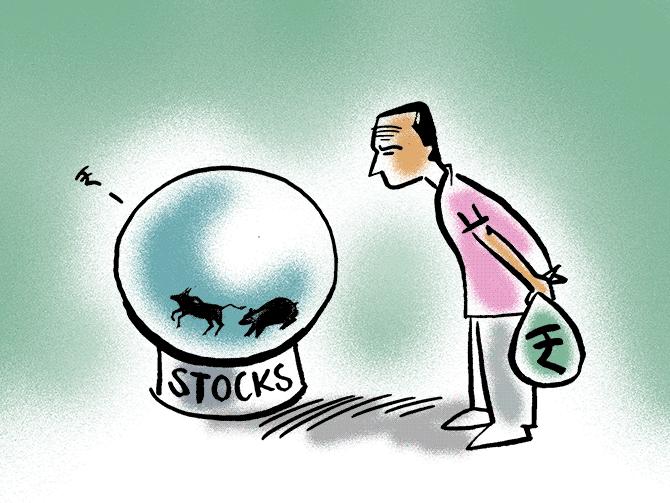 Analysts are dropping coverage on stocks of companies which are facing business uncertainty, heavy debt, and governance issues.
According to the data compiled by Bloomberg, over a third of the top 500 companies have seen a reduction in the number of analysts covering the stock.
Some of the firms that have witnessed major drop include Dish TV, YES Bank, and JSW Energy.
Industry players said analysts typically drop coverage of a stock when it becomes difficult to make earnings projections following a dramatic change in fortunes for the worse of the covered firm.
Companies in the non-banking financial, telecom and other capital-intensive sectors dominate the list of stocks which are covered by fewer analysts, compared to a year-ago period.
Instances of analysts dropping coverage coincide with an increase in loss-making companies.
In the BSE 500 universe, 48 companies reported losses for the financial year 2018-19.
"Repeated disappointment in performance would force the analyst to stop covering such stocks. If mid caps or small caps, as a market cap segment, are out of favour or such stocks have seen institutional stake falling, an analyst would think of replacing those stocks.
"Corporate governance issues cropping up in a company or group also results in less coverage," said Deepak Jasani, head of retail research, HDFC Securities.
Industry players say companies which engage with analysts and with greater transparency and governance standards get tracked widely.
This often results in greater institutional investor participation and better valuations.
A decline in analyst coverage is also a sign of dwindling investor - particularly institutional - interests in the counter.
"If a specific stock is not doing well and institutional interest is dwindling, it does not make sense to cover the stock.
"The research needs to be supported by broking income. Lack of interest will not translate into earnings. No one covers a stock just to earn brownie points," said Ambareesh Baliga, an independent analyst.
Industry players said to increase coverage to newer sectors, such as life insurance and asset management, analysts are shutting down some verticals and reassigning them new sectors.
Stocks that have performed well over the past few quarters, too, see an uptick in coverage.
While most experts attributed company-specific developments for the drop in coverage, some say there could also be technical reasons.
"A particular brokerage dropping coverage for a sector or a theme, and mergers could also be reasons for the reduction in analysts covering the stock," said an industry player.
The slowdown in the broking industry has taken a toll on the "sell-side" coverage of a stock. Some European investment banks have recently shut their equity desks.
Also, some small- and medium-sized domestic brokerage have retrenched their operations to curtail costs.