Meet the likely contenders to replace the TCS boss. Shivani Shinde Nadhe reports.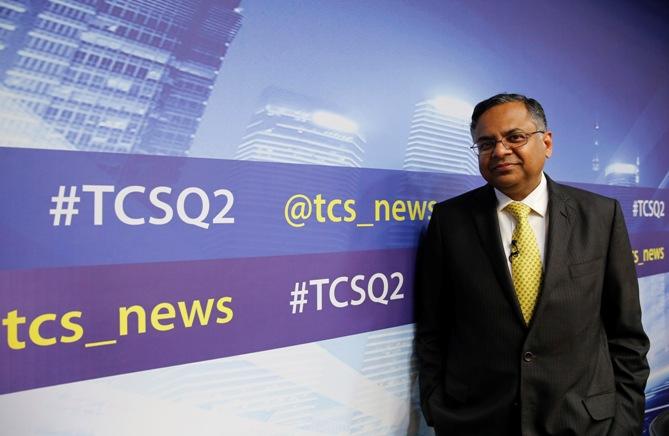 With N Chandrasekaran, CEO and managing director of Tata Consultancy Services, being reportedly considered as one of the contenders for the role of Tata Sons chairman, there is talk about who will replace him at TCS, the $16 billion revenue IT services provider.
A stable leadership at TCS is extremely important for Tata Sons.
The company is the single largest investment by Tata Sons in terms of equity value, accounts for about half the group, and a steady cash flow from TCS has allowed the group to carry on its expansion plans in other companies.
According to analysts and industry sources, while TCS has enough leaders waiting in the wings to take on a bigger role, very few have the bandwidth and leadership qualities like Chandrasekaran.
"If you ask me who is the best replacement of Chandra at TCS, my answer is none. They have created a business model which has several business units and each unit has a CEO, but no one can be compared to Chandra. I also feel that Tata Sons may not want to rock a ship that is steady and giving them healthy cash flow," said an analyst from a leading foreign banks brokerage firm on condition of anonymity.
Chandra was well groomed by mentor former CEO & managing director S Ramadorai. But in the current case, Chandra has not yet clearly identified a next-in-line leader.
This is partly also because the CEO at a Tata company is allowed to be on that role till 65 years and Chandra is still far away from that age.
However, when TCS reorganised its structure into vertical lines and empowered executives to take key decisions, Chandra also created a pipeline of leaders.
Based on that, TCS now has four to five candidate who can try and take on the CEO's role.
These candidates also handle the largest geography business for the company and also have had the experience of heading crucial verticals such as banking & finance, manufacturing and others.
These include Surya Kant, head of North America, UK & Europe; Ravi Viswanathan, head of India, Middle East and Africa; A S Lakshminarayanan, head of Japan; N G Subramaniam, head of financial solutions; and Venguswamy Ramaswamy, head of iON.
What is common for all these candidates is that they are long-time TCS employees and have handled several portfolios and geographies. Also, they all report to Chandra.
Kant's division contribute about 80 per cent of the company's revenue. He has been with TCS for over 30 years and he was responsible to create TCS' presence in Japan as early as 1987. He was also heading the UK operations among other responsibilities.
The only thing that stands against Kant in getting the top job is his age. Based on reports, he should be around 60 years old and the Tata group's retirement policy allows an individual to be at the helm till 65 years.
Viswanathan, as reports suggest, is also known as 'Mr Dependable' at TCS. He is the go-to man to steer troubled business units out of problems. He has been at the helm of the telecom business at TCS, which is the fourth largest vertical for the company and has been vice-president for global delivery.
Lakshminarayan is another candidate who many say could be a top contender for the post. Two years ago, he was given the mandate to handle the company's Japan business.
Japan has always been a tough market to penetrate for Indian IT services, but under his direction in 2014, TCS acquired Mitsubishi Corp's IT arm.
Since he joined in 1983, Lakshminarayan has been sent to build business from scratch. One such instance is the UK business, which he built, and many more.
Subramaniam and Ramaswamy head the two strategic business units at TCS -- financial solutions and SMB business iON.
"The problem at several Indian companies is that there is no clear succession planning. At TCS, you have senior managers who are very good but can they replace Chandra is the question. This thought never came to our mind when Ramadorai was moving away. One of the key highlights of TCS is strong leadership. A new leader will mean changes," said a senior analyst.