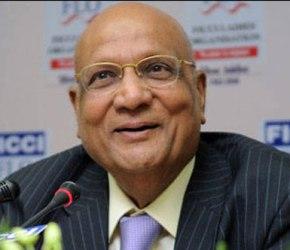 Leading industrialist Lord Swraj Paul on Tuesday applauded efforts by Prime Minister Narendra Modi to improve India's image as a business destination.
The chairman of the Caparo Group said there is no decline in Modi's 'determination'.
"Prime Minister Narendra Modi has been working hard to improve India's image, and programmes such as 'Make in India' are an example of that," he said.
Speaking at an event organised in New Delhi by the University of Wolverhampton, Paul said it is one of UK's best educational institutions and wants to participate in the 'Make in India' programme.
Paul has been the Chancellor of the university since 1999.
"Wolverhampton is in a perfect position to participate in Make in India. We are looking at how we can use our expertise to help and support India," he added.
Paul is leading a delegation from the university to further strengthen educational and business ties between the two countries.
He also spoke about his meeting with the Human Resource Development Minister Smriti Irani which focused on the nature of association with the Wolverhampton university.
Last week, he also made a donation of one million pound (around Rs 10 crore) to the University of Wolverhampton.
The donation made from the Ambika Paul Foundation, a charitable trust set up by Paul in memory of his daughter, will go towards general upgrade of facilities at the campus in
West Midlands of England.
The university, which has a regional office in India, is investing 50 million pounds over the next two years to redevelop its campuses in Wolverhampton, including a new 22-million pound science facility and a new 18-million pound Wolverhampton Business School building.
The University of Wolverhampton today signed a memorandum of understanding with Nepal's International School of Tourism and Hotel Management to help the institution in hospitality and business management studies.
Image: Lord Swraj Paul; Photograph: Brendan McDermid/Reuters