There are four things that stand out in China's strategy for electric vehicles, says Vandana Gombar.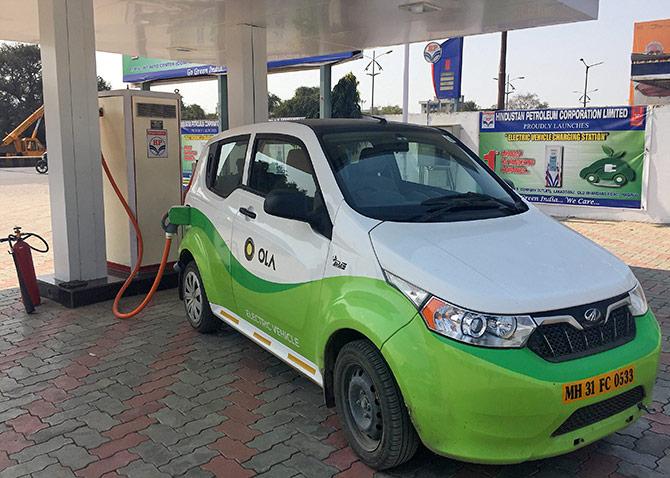 As India embarks on a Rs 100 billion ($1.4 billion), three-year programme to support electric vehicles (EV) and charging infrastructure, it may be able to reap a late mover advantage by looking at what is happening in the world's largest electric vehicle market -- China.
There are four things that stand out in China's strategy for electric vehicles:
Rewarding efficiency: The subsidy was always higher for higher-range electric vehicles running over 250 km on a single charge.
Support has been substantially slashed for lower range models.
For cars with a range of 100-150 km, there is nil subsidy support now.
Ecosystem approach: China has the world's most extensive charging system for electric vehicles -- comprising public and private chargers -- and has the largest capacity for manufacturing batteries for electric vehicle.
Credit system: At least one vehicle out of every 10 sold by automakers in China has to be electric in 2019, as per a mandate.
Exceeding this would generate credits that can be sold to other automakers falling short on their mandate.
City restrictions: Cities like Beijing and Shanghai have significantly curtailed sales of conventional vehicles with internal combustion engines.
That has pushed sales of electric vehicles.
Around 18 per cent of all EVs sold globally in 2018 were in six Chinese cities, and some of these rank among the top EV markets globally.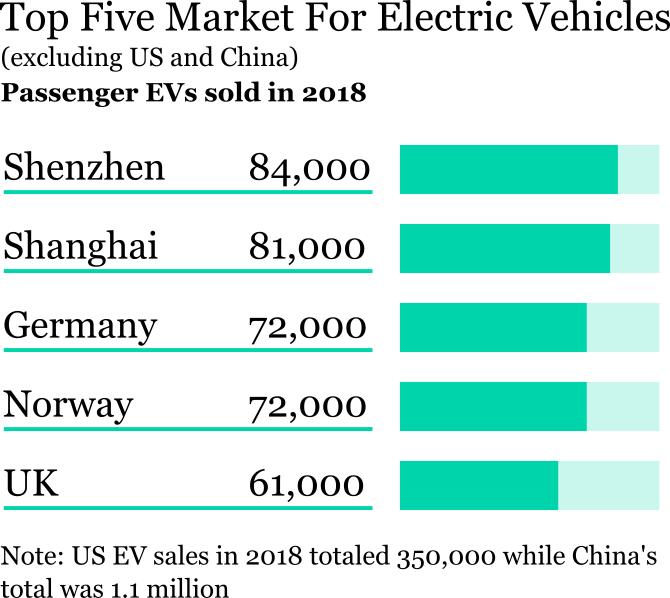 India's electric vehicle subsidy policy announced last month is skewed towards two-wheelers (privately-owned vehicles).
For three-wheelers, and four-wheelers, "the incentives will be applicable mainly to vehicles used for public transport or registered for commercial purpose," the government statement said.
The policy aims to support 1 million two-wheelers, 500,000 three-wheelers, 55,000 four-wheelers and 7,000 buses.
On the renewable energy side, India's capacity reached 75 gigawatts in December 2018.
Another 100 gigawatts must be added by 2022 to reach the target of 175 gigawatts.
Wind farms accounted for the largest chunk (35 gigawatts) while solar power crossed the 25 gigawatts mark.
The balance was biomass and small hydropower.
The outlook for 2019 is positive for both solar and wind.
India will be among the top three solar markets in 2019.
It is projected to install a little over 12 gigawatts this year, according to BloombergNEF (BNEF), equal to the estimated US installation.
China will remain the world's leading solar market, with 39 gigawatts of new solar farms likely to be set up, with the U.S. and India running neck and neck for the second slot, followed by Japan, at about 9 gigawatts.
On wind power, though the market in India was muted in 2018, with just 2.3 gigawatts of new capacity added, the outlook is bullish for the next few years.
About 3.7 gigawatts is expected to be added this year, and around 6 gigawatts or slightly more every year over the next three years.
Global installations are estimated at around 60 gigawatts this year, and in 2020, according to BNEF.
Vandana gombar is the editor, Global Policy for BloombergNEF. Email: vgombar@bloomberg.net