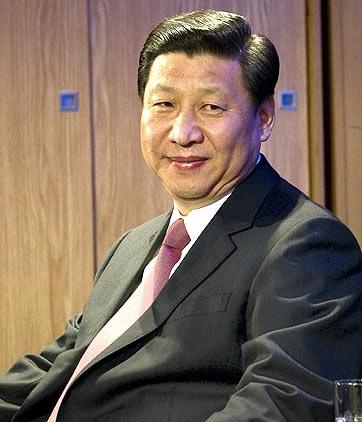 All eyes are wide open for Chinese President Xi Jinping, arriving in India on Wednesday.

On his first visit to India, he has some major announcements up his sleeve, even as he comes prepared to counter allegations of a soaring trade deficit against India.

During his three-day visit, Xi is expected to make an investment commitment of $100 billion for developing the country's creaky infrastructure, over five years.

Apparently, the Indian government has told Beijing that if it wants to enter the Indian market, it has to be through investments and not by tariff concessions.

The new government, under Prime Minister Narendra Modi, has taken this stance with every economic power that wants a part of the Indian market, officials told Business Standard.

Officials said the Chinese decision for investment of $100 billion came very recently and because the government of Japan promised to put in $35 billion or 3.5 trillion yen into infrastructure for the same period.

Whether this will help address the trade deficit remains a question.

This investment will largely be made in India's infrastructure and manufacturing sectors through the establishment of two industrial parks, in Gujarat and Maharashtra.

While investment is not directly linked to the trade deficit, it could help if manufacturing in India leads to substitution of imports from China.

The Chinese President will also commit his country's cooperation and participation in developing and building India's railway network.

"This is not just any amount.

"A country that has not invested so much in over a decade will not commit such a huge investment for nothing," said a Mumbai-based businessman with significant presence in China, on condition of anonymity.

In all the 14 years between 2000 and 2014, China invested a meagre $410.8 million into India, according to official statistics.

Besides, during the India-China business meet, taking place under the aegis of the Federation of Indian Chambers of Commerce and Industry on the sidelines of the visit here, memoranda of understanding worth $3.4 billion are expected to be signed.

Among these will be a $2.2-billion investment proposal between IndiGo Airlines and Industrial and Commercial Bank of China for leasing and financing of 30 aircraft.

Besides, two MoUs on the telecom sector will be signed by Reliance with ZTE and Huawei, for $150 million each.

China Meheco Co will also be signing a MoU with pharmaceuticals major Lupin.

The trade deficit between India and China was $36.2 billion in 2013-14, in China's favour.

India's export was $14.8 billion and import was $51 billion.

For Japan, Modi has promised an exclusive fast-track mechanism for its investors.

It remains to be seen if he does so with the Chinese.

The Prime Minister recently said the visit would strengthen ties. During an interaction with Chinese journalists on Tuesday, he said bilateral relations were moving from "Inch (India and China) towards Miles (Millennium of Exceptional Synergy)."

This will be Modi's second meeting with Xi. They'd met on the sidelines of the BRICS Summit in Brazil this July.

SOWING FOR THE FUTURE
MOUs worth $3.4 billion to be signed on Wednesday during India-China business meet in Delhi
IndiGo Airlines and Industrial and Commercial Bank of China will sign a $2.2 bn deal
Reliance to sign MoU with ZTE and Huawei
Pharma major Lupin to sign a deal with China Meheco Co
Deals in seafood, textiles, cotton and chemicals
What's cooking?

Chinese President Xi Jinping will be treated to authentic Gujarati vegetarian cuisine during his dinner with PM Narendra Modi at the Sabarmati riverfront on Wednesday evening.

With the Prime Minister insisting on a purely vegetarian meal, Xi will be treated to over a 100 dishes, including popular snacks such as khaman, dhokla, khichdi, and kadi, among others, state government officials said.

At the Hotel Hyatt, authentic Chinese dishes such as wonton, tong sui and dim sum along with local dishes, are believed to be part of the menu on Wednesday afternoon.
Image: Chinese President Xi Jinping; Photograph: Rediff Archives