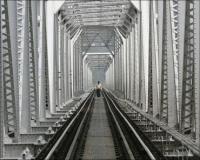 Come next year, Indian Railways will redefine the travelling experience of passengers on premium trains by offering live television services on-board.
The country's largest Direct-to-Home service provider, Dish TV, which has recently executed a pilot project on the Kalka Shatabdi, is in the fray to bag the contract.
Reliance Big TV, too, has evinced interest.
Sanjay Behl, chief executive officer, Reliance DTH & IPTV, said, "Reliance Digital TV has capability to provide services in cars, buses and trains. We are keen to evaluate all tenders in this regard, including that of the Indian Railways."
To begin with, the services would be introduced on eight Delhi-bound Shatabdi trains and then in Rajdhanis and Durontos.
Passengers would be able to surf through as many as 70 channels covering genres such as entertainment, cricket and news.
"The service will be provided free of cost. The contractor would have to pay a stipulated licence fee to the railways and in lieu would get airtime for advertising content on trains," said a senior Northern Railways official.
Live television services are already offered by DTH operators on premium inter-city buses, luxury trains and ships.
But this would be the first time the service would be rolled out on a mass scale on trains.
Salil Kapoor, chief operating officer, Dish TV, said: "Mobile DTH services are a niche category right now. The devices installed
in cars can be used on trains.
"With the growing popularity of sport utility vehicles in the country, we are seeing increasing potential in the segment."
Industry sources say the cost of installing a single seven-inch LCD screen for availing of mobile television services turns out to be Rs. 1.75 lakh.
Northern Railways plans to install seven-inch LCD screens on the back of each seat of all executive-class and chair-car coaches in Shatabdi trains from Delhi.
The cost of development, management and maintenance, including provision of audio and video content, internet surfing and games will be borne by the service provider.
Twenty per cent of the content aired by the service provider can be advertisements.
The contractor can provide value-added services such as internet, facilities for making ticket reservations and hotels.
Basic entertainment services will be free of cost, but passengers would have to pay for "add-on" services.
The official said: "The per rake (all coaches of train) investment of installation of live TVs will work out to be approximately Rs. 1 crore (Rs. 10 million) for the contractor and another Rs. 50 lakh would be expended in licence fee per train."
The contract period will be five years, extendable on the basis of performance.
The licence fee will be collected on a half-yearly basis, and will be increased 10 per cent after the second year, 15 per cent after the third and 20 and 25 per cent in the fourth and fifth year, respectively.