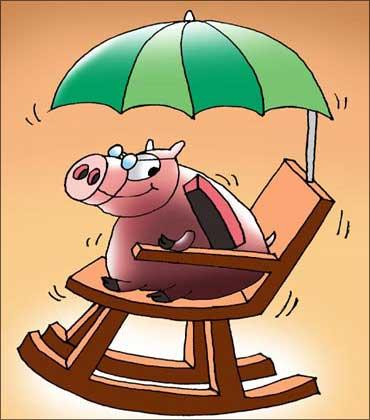 It's such a well-kept secret that even well-heeled financial planners aren't aware of it, says Harsh Roongta.
Illustration: Uttam Ghosh/Rediff.com
Even the latest guidelines allowing usage for EPFO money to buy property is riddled with complications
Very few people are aware that you are allowed to withdraw money from your Employee Provident Fund (EPF) account to pay for the purchase of a house property or for repaying a home loan.
It's such a well-kept secret that even well-heeled financial planners aren't aware of it.
The reason: The current EPF Act was framed in 1952 (as a successor to a 1925 Act inherited from the British) with noble intentions.
It used the might of the mai baap sarkar to force employers to contribute an 'additional' amount of money, over and above the wages paid to the employee, for the future well-being of the employee.
It also forced the employee to contribute a matching amount for his own future well-being.
To protect the employee from blowing up this money in wasteful expenditure, it allowed pre-mature withdrawals only in dire emergencies.
But like all well-meaning laws, it had many unintended consequences.
For one, employers moved to a 'cost-to-company' concept where they priced in the employers' contribution in the total compensation payable to the employee.
More importantly, a whole new bureaucracy was born and prospered in the name of protecting the EPF corpus.
And they made the process of withdrawals after retirement very difficult, and getting money for emergencies, almost impossible.
Thankfully, with computerisation, much has changed, and it is not so difficult to claim your retirement corpus.
However, the recent changes in the Act allowing members purchase a property through their EPF corpus runs the danger of going back to those medieval days of red tape.
A sample: If you want to withdraw your entire PF amount for purchasing a plot or a flat, it has to be purchased only from a state or the central government or a 'Housing Agency under a Housing Scheme as notified by the Central Provident Fund Commissioner from time to time'.
If you wish to purchase it from any other developer or a resale property, the withdrawal is restricted to three years' salary.
Worse, you cannot take any loan against such a property.
This means that the entire purchase has to be funded from your own resources plus the paltry three years' salary that the EPF department will generously disburse.
The worst part: It also allows EPF officers to levy a penalty on the member if more money is withdrawn than what was needed.
The newly introduced paragraph 68BD allows withdrawal of 90 per cent of the EPF amount for property purchase is reasonably drafted, alas for a single killer line -- it is available only if a minimum of 10 EPF members get together to develop or buy flats together.
This restriction will ensure that the use of the EPF money for buying your own home remains muted.
As it exists, it is only a good business opportunity for a smart and nimble real estate developer or a lender to put together a group of the EPFO subscribers and get this money out.
Removal of this restriction will provide a great boost to the Pradhan Mantri Awas Yojana.
Clearly, the EPFO feels it is protecting the government's money from a greedy populace and not acting as a guardian of the members' own money.
Harsh Roongta is a Sebi-registered investment advisor