Indians waiting patiently in serpentine queues outside Mumbai banks tell Rediff.com's Syed Firdaus Ashraf they back Modi's move and are ready to suffer for the larger good of the country.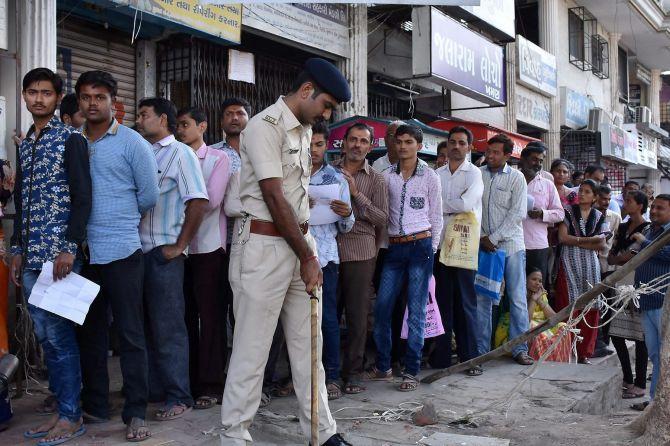 Photograph: PTI Photo
At 3 am on Tuesday, Hareshwar Tandel woke up.
Never in his life, he tells me, had he bathed so early, but he wanted to reach the bank early this morning.
"I reached the Bank of Maharashtra at 4.30 am, the first person in the queue. I drank three cups of tea by 8 am," he adds. "I have to go to work at 10 am.".
"I need money because there is a wedding in my sister's home, and I have to give her Rs 10,000," he says.
"For my son's wedding my sister had given me a Rs 50,000 loan and I have to return her money now. The marriage is on Saturday, November 19," Tandel adds.
He had tried to withdraw money on Saturday, but failed to do so.
"I only got a chance to deposit Rs 500 and Rs 1,000 notes worth Rs 50,000," he says. "The money I had come to deposit was bisi (chit fund) money."
"I run a small chit fund business and all the money landed with me before Modi banned Rs 500 and Rs 1,000 notes," Tandel explains.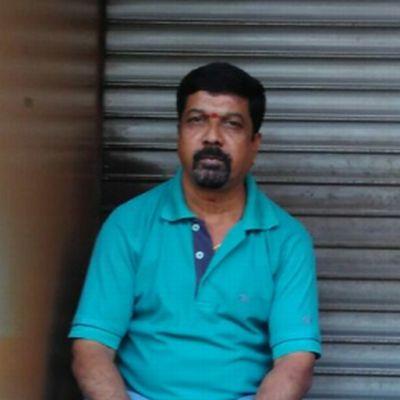 Despite all the inconvenience, Tandel, left, lauds the demonetisation move.
"I am ready to suffer for two days, but this is good for the country. Lots of people are suffering now," he says, "but those who have earned money honestly have nothing to fear."
"I have worked hard and honestly to earn money, therefore I support Modi. In the future there will be no black money," Tandel assures me. "In the future, there will be no corruption."
But Tandel is not happy with the government's decision to first release Rs 2,000 notes into the market.
"He (Modi) should have got Rs 500 notes first because that would have solved this crisis," says Tandel. "There is no change (for a Rs 2,000 note) in the market and this is creating lots of problems. I am hoping this problem will be solved in one week."
"I have not eaten non-veg food for a week," he confesses. "But I am ready to sacrifice this much for a better future."
Akhilesh Kanojia tried to withdraw money on Sunday, but couldn't do so.
"I have no money for a cup of tea. I knew that today I have to get money somehow. I reached the ICICI bank at 4 am. My landlord is asking for rent and I have no money to give. I do not use any credit cars, debit cards or Paytm," he says.
Kanojia, who hails from Prime Minister Modi's Lok Sabha constituency Varanasi, shares a room with friends in Mumbai.
"The situation was very bad for us yesterday (November 14). We had nothing to eat except rice and dal. None of my roommates had money to buy vegetables," adds Kanojia.
"I have to reach office by 11 am, therefore, got ready early and came to the bank to withdraw money," he says, adding that he is ready to suffer because he knows the prime minister is doing a good job for the country.
"It is frustrating though to stand in the queue for long hours, but then I convince myself that it is not me alone who is suffering. The entire country is suffering. In Varanasi," he says, "the situation is worse because there are not many banks compared to Mumbai."
"Believe me," he adds, "people are not complaining in my hometown too because they know Modiji's move will be good for all of us in the long term."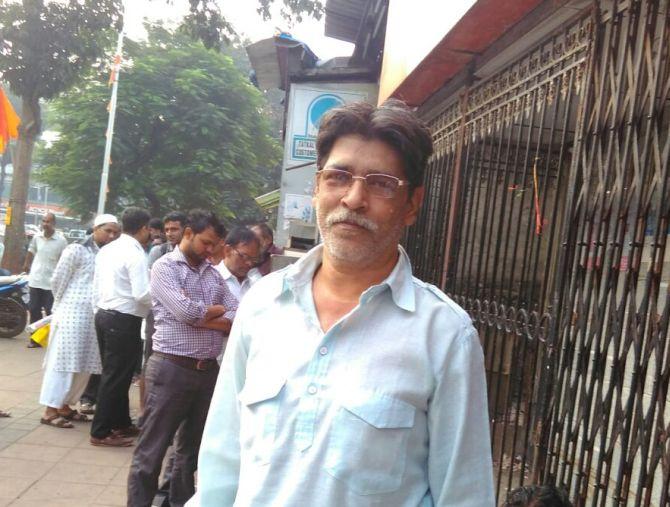 IMAGE: Mukhtar Shaikh waits outside the bank. Photograph: Syed Firdaus Ashraf/Rediff.com
Mukhtar Shaikh has been standing in the queue outside the Bank of Baroda branch since 3 am.
"The first time I have come so early to a bank," he says, adding, "I have drunk at least six cup of teas and smoked a full packet of cigarettes in the last five hours."
"I own a shop, but there is no business these days. There is no money at home either," Shaikh adds.
"Business is down 70 per cent after demonetisation, but I support Modi. In one masterstroke, he has made all the black money useless. People who had hoarded money are running helter-skelter and have no idea what to do with it," he says.
The prime minister, Shaikh emphasises, is a man of vision.
"He has great ideas and he will never do anything in haste. People are complaining about shortage of money, but just wait for three days and everything will be sorted out," says Shaikh. "On the news I saw helicopters flying all over the country to distribute currency."