A large team led by Kumar Mangalam Birla has taken charge of the integration process.
Romita Majumdar and Viveat Susan Pinto report.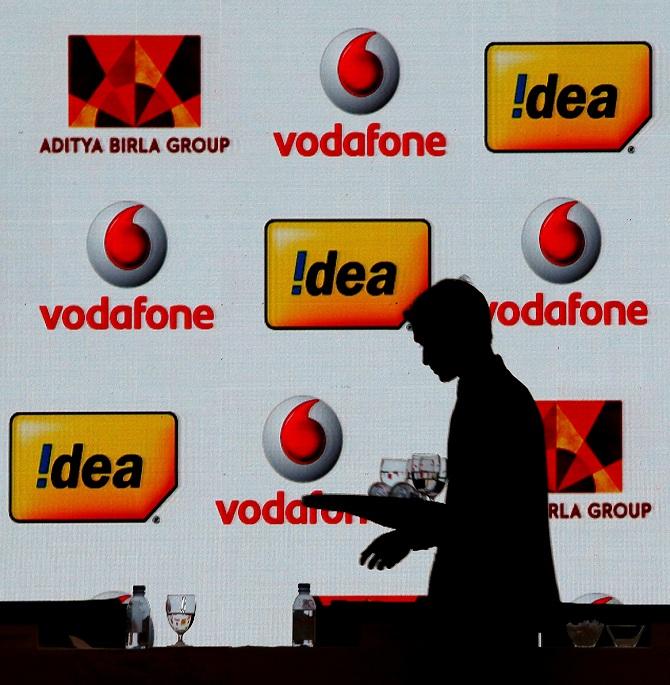 The much-awaited merger of telecom giants Vodafone and Idea Cellular is likely to be announced in the next few weeks, but the technology integration may take at least four years as a large amount of data and network integration are required in the background.
Technology analysts tracking the two companies noted the size and complexity of data migration involved in the merger would take two to four years to complete and stabilise.
While most of the transformation is likely to be in phases, analysts say the merged entity might be racing against time as it struggles to compete against rivals.
"Merger of Vodafone and Idea is a large and complex case. Besides the complexities that are inherently present in rationalising people, processes and technologies (overlaps across IT, network and supply-chain; data migration challenges etc), the need to transform technology and operations structurally is further daunting," said Amresh Nandan, research vice president at Gartner.
In addition to the change in business process towards agile Cloud-based models, the changes required in organisation, structure and skill sets will be significantly aggravated by the competitive landscape in Indian telecom market, Nandan added.
Post the approval from Department of Telecom last week, Vodafone and Idea Cellular have been pushing their technical teams to work in full swing in order to be ready for the formal launch within the next couple of weeks, according to sources.
Sources in the know said engineers of Tata Consultancy Services, one of Vodafone's technology vendors, are working round the clock to ensure the user interface is ready before the formal launch.
TCS is said to have asked its employees to get the new interface ready within this week.
The interface will include elements of both companies as well as a disclaimer stating the former affiliation of the merged company.
While both companies did not respond to queries on the business functions that will be impacted by the merger, internally, a large team led by Kumar Mangalam Birla, the non-executive chairman of merged Vodafone-Idea, is said to have taken up the charge of integration process.
Helming the brand integration exercise is Aditya Birla Group Corporate Strategy and Business Development President D Shivakumar, who joined the company last year after exiting PepsiCo.
With expertise in marketing and branding, Shivakumar is best placed to help with the brand integration process, sources in the know added.
Birla is believed to be monitoring the brand integration process closely and timing of the launch of the merged brand entity will be crucial, said industry sources, owing to Jio's GigaFiber initiative that is set to be unveiled on August 15.
"Integrating customer engagement across markets, including plans and services on offers, is also something that will take time and could be done in phases," said Raja Lahiri, partner of Grant Thornton India.
However, one key area that continues to worry analysts is both Vodafone and Idea have been struggling on the business front in India.
In the June quarter, Vodafone indicated a slowdown in the growth of LTE site addition, further suggesting controlled capital expenditure before the merger.
"As per Idea management, the company's relatively weak performance was on account of their pricing strategy backfiring. This could have played a part, we agree. However, we think the Idea-Vodafone mergeco (merged entity) needs to step up and accelerate its network coverage and capacity expansion plans to stay competitive," noted Rohit Chordia, equity analyst at Kotak Equities.
In addition, both Idea and Vodafone saw slower addition of broadband subscribers though it was stable for Bharti Airtel and Jio during the June quarter.
A telecom analyst from a leading research organisation, who did not wish to be quoted, said while the merger would make Vodafone-Idea the largest telecom operator in the country, they would need to show material margin growth over the next year and half to sustain their market cap.
"The fact that the new operational leadership announced in March, is a mix of top brains from both incumbents, could be a hiccup in the process to identifying one key strategic focus for the merged company," said the analyst.