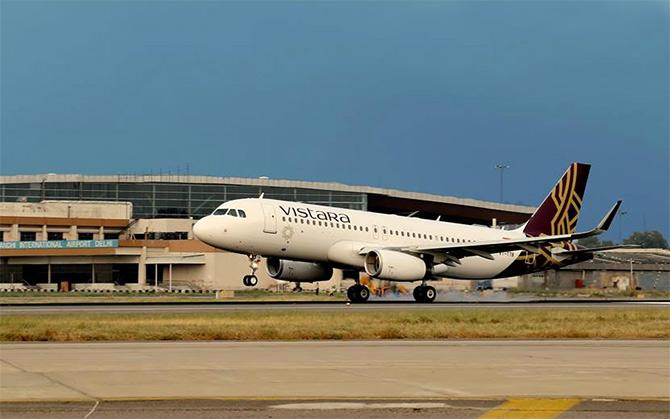 The first Airbus A-320 aircraft of Tata-SIA joint venture Vistara airline, painted with its logo and livery, landed at the IGI Airport in New Delhi on Wednesday, taking the carrier a step closer to its launch.
The landing marked the 82nd anniversary of JRD Tata's first commercial flight from Karachi to Mumbai, as the aircraft was welcomed with a water cannon salute.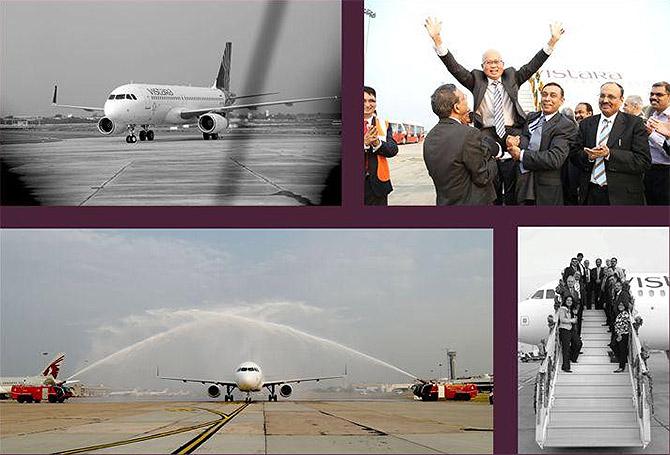 The aircraft was delivered on September 25 and had gone to Singapore for being painted with the aubergine and gold coloured logo and livery of Vistara.
Now, the A-320 would have to begin proving test flights and undergo other regulatory checks before the aviation regulator DGCA grants Vistara and its aircraft the airworthiness certificate and the flying licence or the Scheduled Operator's Permit (SOP).
Airline officials had earlier said the operational launch may be held later this month, though the entire process has been delayed by a few weeks due to delay in delivery of the aircraft.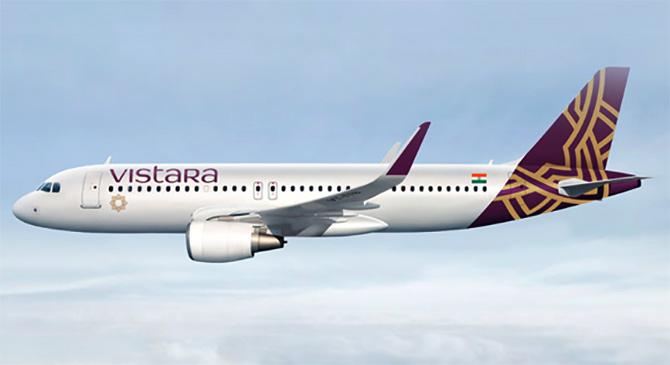 With this acquisition, Vistara plans to increase its fleet to 20 aircraft, including the latest A-320 neos, by the end of the fourth year of its operation. The A-320-200 is fitted with 'Sharklets' or large wingtip devices which help reduce fuel burn.
At a function in the airport on the occasion, Vistara Chairman Prasad Menon said, "There could be no better way to celebrate the 82nd anniversary of a significant milestone in Indian aviation – the first commercial flight of Tata Airlines that was piloted by the legendary JRD Tata."
"Each step in this journey brings us closer to the realisation of Vistara, an airline that will redefine the air travel," he said.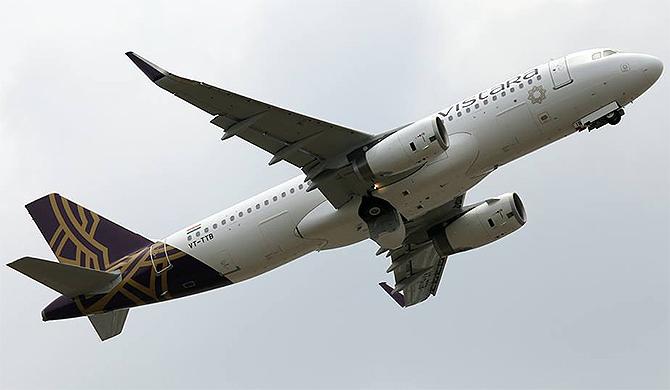 GMR Airports' Chairman Srinivas Bommidala welcomed Vistara, which has chosen Delhi as its operational hub, and said, "The presence of Vistara will provide more full service carrier options to passengers and I am confident that Vistara will positively contribute to the growth of traffic at Delhi International Airport Limited."
This is the first of the 20 A-320 family of planes like A-319s, A-320s and A-321s, which are being leased from Singapore-based BOC Aviation.
With Delhi as its hub, Vistara, the 51:49 joint venture between Tata Sons and Singapore Airlines, plans to operate first to five cities and then connect to 11 within a year, operating 87 weekly flights.
The plans are to link Delhi with Mumbai, Bangalore, Goa, Hyderabad, Ahmedabad, Jammu, Srinagar, Patna and Chandigarh within the first year of operations.