Vistara, the airline begun as a joint venture between Tata Group and Singapore Airlines, opened bookings from Thursday night for its first flights from January 9.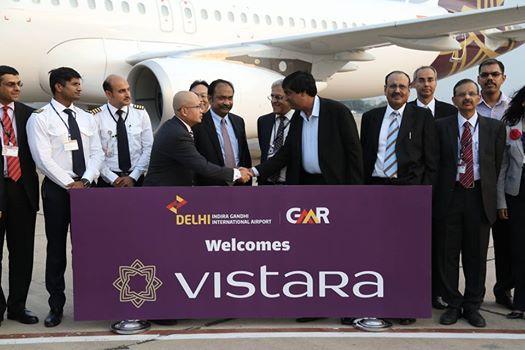 The fares are substantially higher than those of its full-service carrier rivals, Jet Airways and government-owned Air India (AI).
It, however, will be the first in India to offer premium economy seating and a value-based frequent flyer programme, where bonus points would be given not on miles flown but on what you pay.
Vistara will commence services between Delhi and Mumbai on January 9 and will link the two cities to Ahmedabad the next day, in 148-seater Airbus A320 aircraft (16 business, 36 premium economy and 96 economy class seats).
Rivals were quick to react. Jet said it was giving double to triple bonus frequent flyer miles to passengers on the Vistara routes. Vistara has not yet announced its agents' commission.
It will target both leisure travel and corporate travel, sectoral sources said.
Unlike low-cost carriers, which tend to offer discounted fares when they launch, Vistara has preferred to maintain its premium image here, a relief to many airlines that it would not go for a price war.
Vistara has priced its tickets for the three initial routes — Delhi-Mumbai, Delhi-Ahmedabad and Mumbai-Ahmedabad much higher than the competition in the economy class.
These are 38 per cent higher on Delhi-Mumbai and 20 per cent more on Delhi-Ahmedabad. Fares for Mumbai-Ahmedabad are three times higher than the competition on January 12.
Vistara has two flights on the Delhi-Mumbai route on Friday, January 9, and one return flight to Delhi on that day. Its first flight will take off at 12.30 pm. Its minimum economy fare on offer on Delhi-Mumbai is Rs 7,502.
On Friday morning, it was offering tickets at Rs 9,323 for economy class; premium economy seats are priced Rs 15,409.
For Monday, January 12, Vistara has three flights on the Delhi-Mumbai route and its lowest fare on sale, Friday, was Rs 7,502 onwards. Premium economy fare was Rs 10,907.
Rival airlines fares on January 12 started from Rs 5,008 on Delhi-Mumbai and Delhi-Ahmedabad and start from Rs 2,876 on Mumbai-Ahmedabad.
Vistara's business class fares are also slightly higher. For January 12, these were available on the Delhi-Mumbai route for a minimum of Rs 25,526; it also charged Rs 32,000 for two flights. AI was offering a Rs 25,000 fare for business class on all flights and Jet's fares ranged from Rs 21,000 to Rs 38,000.
Meanwhile the battle for frequent flyers has intensified. Jet is upgrading its loyalty programmes ahead of Vistara's launch on January 9. It is offering bonus frequent flyer miles to passengers on the Vistara launch routes of Mumbai-Delhi and Mumbai-Ahmedabad, according to its website.
Vistara is offering a value-based frequent flyer programme called Club Vistara. Loyalty points accrue on the actual spending on ticket fare, not on miles flown. The airline has done away with a physical loyalty card. It offers 500 bonus points to customers on enrolment in the programme and an extra 200 on bookings.
Jet, which earlier this month dropped its no-frills model, Konnect, is offering additional miles on the Vistara routes. Economy class passengers will get double the number of miles and business class will get three times the number offered now. The additional miles are being offered only on Mumbai-Delhi and Mumbai-Ahmedabad and for January-March travel.
Got wings, will fly
Vistara will commence Delhi-Mumbai services on Jan 9
While airlines offer attractive discounts during launch, Vistara's announcement had no such deals
It has priced its tickets for its three initial routes, Delhi-Mumbai, Delhi-Ahmedabad and Mumbai-Ahmedabad, much higher than the competition
Its minimum economy fare on offer on Delhi-Mumbai route is Rs 7,502
It is offering a value-based frequent flyer programme called Club Vistara, wherein loyalty points are accrued based on actual spend on the ticket fare, rather than miles travelled
To counter Vistara's offers, Jet said it is giving bonus frequent flyer miles to passengers on Vistara's routes
Photograph: Courtesy, Vistara/Twitter