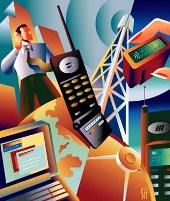 Even as other telecom operators whose licences were cancelled hung up their boots, Videocon Mobile plans to stay on.

The operator is planning to turn aggressive in adding subscribers.

Venugopal Dhoot, the chairman of the Videocon group quashed rumours that recharge coupons of their service are available in the market, and said they were ensuring a supply of new SIM cards in the market.

Three operators whose licences were cancelled by the Supreme Court order -- Etisalat DB, Loop Telecom and STel -- are shutting operations. Videocon, too, lost 21 licences as part of court order after the controversial allocations in 2008.

Dhoot also claims they are doing well in customer acquisition. "It is our monthly target to add 700,000 new customers, and we have already added 300,000 in April," he told Business Standard.

Some retailers of Videocon SIM cards spoken to in Mumbai, said the salesmen of the service had not been regular in replenishing their stock. But recently, some of them were visited by senior staff from Videocon.

"They looked very senior, and said that we will be serviced regularly now," said Salim, a retailer in Bandra.

Videocon Mobile, however, has been a laggard in gaining customers.

It was the last of the operators which launched its services in March 2010 in a very saturated and competitive market, where margins have already hit rock bottom.

In achieved peak customer numbers in December 2010 with 7.3 million subscribers.

After that, it fell to six million the next month.

Last year too, the operator's subscriber base remained in the six-seven million range, never reaching its peak of December 2010.

In January this year, it fell to 5.8 million and was at six million by the end of February.

Dhoot is
not worried about these numbers.
"It is cyclical. It falls sometimes and goes up again. Since January, we have been advertising and also launched in new circles, so it will go up from now," he said.
Videocon currently has operations across 18 circles.
He also claims that the consumer durables and DTH group is not alien to the business of gaining consumers.
"We have been giving more attention to other businesses than telecom. But, we also realise that telecom is a long-term game.
"It might take about seven years to gain ground," he said.
According to data from the Telecom Regulatory Authority of India, the company has a market share of 0.68 per cent in the total subscriber base.
It is ahead of players like Etisalat DB, STel, Loop Telecom, HFCL and MTNL.
To fund re-auction from oil cash
Videocon, like its peer Uninor, which also lost licences according to the order, wants to participate in the re-auction of licences and spectrum.
However, unlike some other operators, Videocon does not have a strong foreign partner who can pump in money. But, the company does not seem to budge from its plan.
"We do not want any foreign partners.
"After our oil discovery, the group has changed and we have enough cash within the group. There are inquiries from foreign partners but we will look at it after the re-auction," he said.
The group struck gold in the oil business after its Ravva fields started oil production.
The group has 25 per cent stake in the blocks. Videocon also has blocks in Mozambique in partnership with Bharat Petroleum has discovered natural gas.
Videocon has planned to sell 26 per cent stake in its company after its service launch last year.
However, as the timing had been wrong due to the turmoil in terms of margin fall due to tariff war, no deal could not be closed.