Priya Nair tells you how you can use technology to invest better and maximise returns.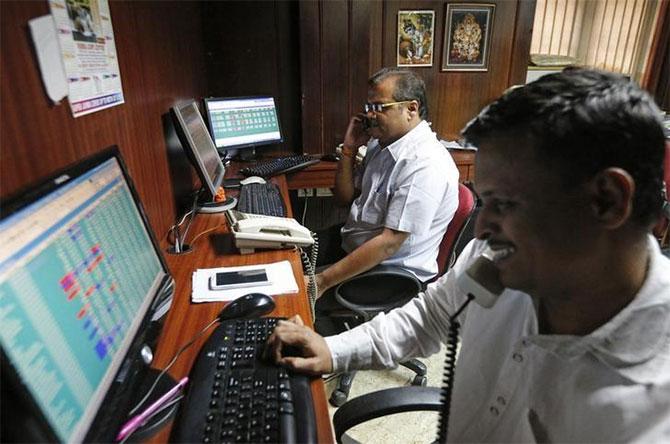 Technology has come to the aid of savers and investors in many ways.
One stark example is reduction in costs, and consequently, improvement in returns.
For example, buying mutual funds (MFs) through the direct plan route by going to the fund house's Web site can save you over 100 basis points in terms of costs vis-a-vis a regular plan.
And over the years, this over 100-basis point difference can lead to substantially higher returns.
If you have invested a lump sum amount of Rs 1 lakh in an equity scheme returning 10 per cent annually, a direct plan investor would make Rs 1.46 lakh after five years, whereas a regular plan investor would make Rs 1.37 lakh, a difference of Rs 9,000.
After 15 years, this difference would be more than Rs 60,000.
And it is simply because the cost difference is 125 basis points between a direct and a regular plan.
It is not just costs and returns, technology has made life easier in other ways as well.
Technology as an enabler
Savers have benefited significantly from technology.
Earlier, opening a fixed deposit (FD) with a bank required the investor to go to the branch and fill up forms.
Today, with a click of a button on the bank's Web site, you can move money from your savings account and start a FD.
The Employees' Provident Fund Organisation (EPFO) has gone almost fully digital.
Now you can check your balance on its Web site, and after retirement, even file for online claim settlement.
In May, the retirement fund manager launched the online claim settlement facility.
It plans to eventually settle claims of all Aadhaar and bank account-seeded EPF accounts within three hours of receipt of an application.
"Technology offers in-depth information which reduces biases in decision making; ease of access to the required information through cost-effective methods; convenience in seeking the information, as it is available at your fingertips anytime and anywhere," says Santosh Joseph, founder and managing partner, Germinate Wealth Solutions.
"Technology also aids an investor in monitoring his progress and keeping track of his investments, in some cases even in real-time," Joseph adds.
For those who want to know how much they will require for their retirement, there are various online calculators that tell you how much you need to save every month.
Algorithms can tell you how much you need to invest in different asset classes based on your age, income, life goals, etc.
Then, there are Web sites dedicated to investment products like mutual funds, which help pick the right schemes, based on details like funds' track record, returns, ratings, etc.
There are insurance aggregator Web sites that provide various options of life and health insurance policies, with premium options ranging from the lowest to the highest.
"There used to be a time when if you needed an insurance quote you had to ask the company and it would take two to three days to get one. Now you can get information about 30 companies at one go. This makes it easier for customers to make a decision on their own," says Yashish Dahiya, chief executive officer and co-founder, Policybazaar.com.
And instead of going through the sites of various banks, you can go to loan aggregator Web sites to know the best interest rate for your loan or even the best deposit rate for a particular period.
Technology for convenience
Gone are the days when you had to maintain a passbook, go to the bank branch for statements, file away mutual fund and credit card statements.
Now, all of that is available in your email box.
You can simply attach and send them to the income tax department while filing returns.
"The need to fill a physical form for redemption of MF units and going to a regional centre is also a thing of the past with online KYC, purchase and redemption available," points out Naresh Makhijani, partner and head, Financial Services, KPMG in India.
"All this has brought convenience and trust for investors making them invest on their own," he says.
Technology for reducing costs
This, perhaps, has been the biggest boon for everyone.
Even companies are going aggressive on online options because of costs.
Aegon Life Insurance exited the agency channel last year and is following a direct-to-customer model.
"We are reaching out to online customers via digital channels such as Facebook, Google, email and YouTube. We offer simple solutions which are easy to comprehend and buy," says Martijn De Jong, chief digital officer, Aegon Life Insurance.
"Besides, online customers are, in general, well informed due to their own online research. We offer clear and transparent advice and guidance on our Web site and via our telesales advisors," adds De Jong.
Just a week ago, Acko General Insurance, received in-principle regulatory approval to launch a general insurance business in India.
Acko will operate as an independent general insurance company with its entire operations offered through the digital platform.
For customers, as shown in the above-mentioned mutual fund example, there can be significant savings.
Even in case of buying online insurance products, like a term plan, there can be a dual benefit.
Typically, an online term product is 30 to 40 per cent cheaper than an offline plan.
So, as a policyholder, you can get the same policy cheaper or choose a higher sum assured.
Photograph: Shailesh Andrade/Reuters