The RBI governor-designate may be economical with spoken words, but is known for his sharp and critical writings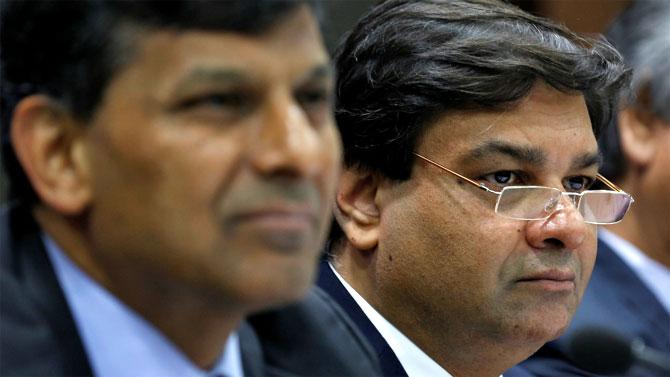 "Known unknown" is an integral part of central banking lingo. Urjit Patel's public persona fits the category perfectly. In the three years-plus that he has been a deputy governor at the Reserve Bank of India (RBI), not many know about his views on matters outside monetary policy and inflation. And in that too, Patel has always remained economical with his spoken words.
There is hardly any Patel interview, and one has to stretch really hard to figure when was Patel's last public engagement outside the policy platform.
The easiest conclusion to draw could be that his appointment indicates the Modi government's preference for people who keep their heads down, work quietly and don't make waves in the media, unlike Raghuram Rajan, who more often than not embarrassed the government through his public speeches.
Besides, Patel matches Rajan's intellectual heft and is also the man behind RBI's monetary policy framework that set the inflation target at a central point of four per cent (with a two per cent band), which is now the policy plank for the central bank and the upcoming monetary policy committee.
Rajan and Patel both are around the same age, 52-53, and have the same hawkish stance on inflation. Besides, they have worked very closely. They tweaked the liquidity framework several times, trying to force banks to pass on rate cuts or even develop a term repo market.
Patel's work on real interest rate is something that Rajan has endorsed several times in his addresses and, in fact, the RBI governor has also used the real interest rate argument several times to squash his critics. Their positions about the exchange rate is also in harmony.
But they are complete contrasts in character.
Or, are they? For, what Patel lacks in expression, he more than fills up with his uncomfortably sharp and critical writings. And his criticisms are potent enough to initiate a series of course corrections by the government.
No less than then Prime Minister Manmohan Singh wrote to the home ministry, "He is very important for the country," when Kenya-born Patel applied for an Indian passport in 2013 to become the deputy governor at RBI.
Patel's appointment at RBI, under D Subbarao, surprised many, considering a biting report that he authored with late Gangadhar Darbha just a year earlier, in January 2012. The Brookings report heavily criticised RBI and Subbarao for giving a quiet burial to the medium-term objective of around three per cent inflation. "... what is clear is that persistence of elevated inflation is agreeable to some policy makers. he authorities want to take credit for India's growth performance but stay blameless on the price front - a case of heads I win, tails you lose!"
Or, sample this criticism of Subbarao for stating most of India's inflation was supply-side driven and monetary policy had limited scope for driving it down.
"This is an astonishing series of nihilistic statements - unassisted by evidence or even a hint of scientific thoroughness - from the central bank head pleading either hopelessness on account of India being a large and diverse Federal entity, or, a form of muddled eclecticism," wrote Darbha and Patel.
It is safe to assume then that Patel could spring a surprise and turn into a stauncher warrior on central bank autonomy than all the previous governors. As Thomas Rookmaaker, director, Asia-Pacific Sovereigns Group, Fitch Ratings, said, "A central bank governor doesn't need to have a rock star status to be successful in reining in inflation or cleaning up the banking sector."
Those who work with him know he has a sharp sense of humour, but not for public expression. In fact, it needs some prodding by others to get to know about Patel's lighter side.
Sample this: In the third-quarter monetary review for 2013-14, when a reporter asked the governor to explain why the policy action was hawkish while the guidance was dovish, Governor Rajan answered the question citing an analogy by Patel. "I think Urjit had a fantastic description, we are neither hawks nor doves, we are actually owls. Urjit would you like to elaborate?" asked Rajan.
"Well, an owl is traditionally a symbol of wisdom, so we are neither doves nor hawks but owls and we are vigilant when others are resting," replied Patel.
Many say as RBI governor, Patel will have to be more voluble on that wisdom as communication is now one of the most important transparency measures to gauge a central bank. The first task before Patel after becoming the governor will be to soothe the nerves of the market by talking and assuring at the time of FCNR (B) redemptions between September and November.
Patel's familiarity with Prime Minister Narendra Modi goes back to early 2000 when he worked as a member of the board (and chairman of the audit committee) of Gujarat State Petroleum Corporation Ltd. He got his Doctorate from Yale University in 1990 and M Phil in economics from Oxford University in 1986.
Unlike other RBI governors of the past, Patel has a hands-on view on the corporate sector, having worked as the president for business development at Reliance Industries Ltd in 2008 and 2009. His responsibilities in that position were to assess macroeconomic risks for overall business envelope, and strategising commercial approaches for hydrocarbon energy companies of climate change-mitigation policies.
In 2006 and 2007 he was the non-resident India Economics Fellow at Brookings Institution, Washington, DC, but could not take up a full-time resident fellowship "due to family reasons," Patel's resume reads.
He was also instrumental in forming the Infrastructure Development Finance Company Ltd (IDFC) and served as its executive director between 1997 and 2006. He has worked in key government departments of the finance ministry and closely worked with RBI much before he joined the central bank.
Patel is remembered by old-timers for backing India aggressively during the reforms period in 1990-92 when he was at the Economist Program for the International Monetary Fund (IMF) , working on the US, India, Bahamas and Myanmar desks. He was later given the responsibility of being the deputy resident representative of the IMF in India between 1992 and 1995.
Photograph: Reuters