Who is responsible for grievance redressal?
Why are the card details so easily obtainable?
The NITI Aayog may want us to believe this is one of the easiest payment systems in the world, but Tinesh Bhasin decodes the many unanswered queries and concerns involving the United Payments Interface.
Illustration: Uttam Ghosh/Rediff.com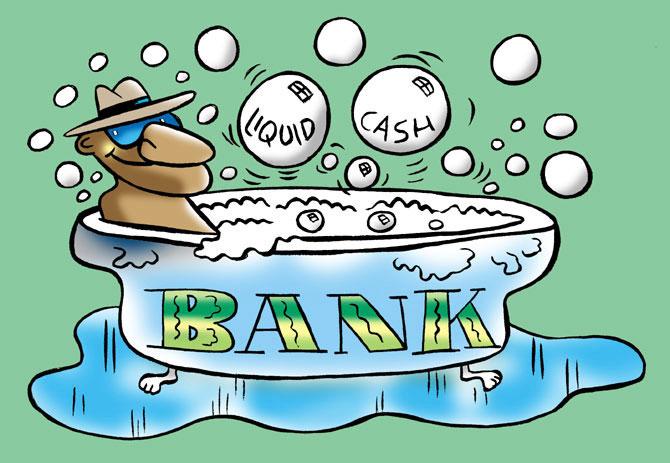 Amitabh Kant, chief executive of Niti Aayog, has described United Payments Interface or UPI as one of the easiest payment systems in the world. One simply needs to know the Aadhaar card number or Virtual Payment Address of the receiver. Then, use your thumb to access your bank account and transact. The best part: You don't have to remember any bank account details.
Sounds simple? It is, but for the confusion that remains at both bank and customer's ends.
In an interview to a television channel, Arundhati Bhattacharya, chairman of the country's largest bank, State Bank of India (SBI), pointed out that there was little clarity on which bank would address a grievance if a transaction failed and who would take the responsibility for reconciliation. Though transactions on UPI have jumped from 3,721 a day on November 8, the day demonetisation was announced, to 48,238 a day on December 7 -- an increase of 1,196 per cent -- many are still unconvinced.
Who is responsible for redressal?
There could be four parties in a UPI transaction: Two app developers (sender's and receiver's), the bank from which money is sent and the receiving bank. In UPI, a person can use any bank's app without being its customer and add another bank's account to it. But, if a transaction fails and the funds don't return to the sender's account, he has no option but to approach his bank to resolve the problem.
Bankers say at present, none of the parties has visibility on where the issue lies and there's no automatic reversal of money.
"National Payments Corporation of India's (NPCI) officials do help to resolve such problems but the volume of transactions is quite low. It will be difficult for banks, as well as NPCI, to handle grievances when the volumes are in millions," says a banker.
And, the customer will need to proactively follow up with banks.
How does one reconcile?
When a transaction is initiated from the sender's account, the request goes to NPCI's server, which is then forwarded to the receiver's bank. Say, the transaction gets timed out before the confirmation is sent but the receiver's account is credited with the money. In such a case, the sender will get a transaction failure message, which means the money has not left his bank account, but the other bank has already received the funds. The two banks will need to reconcile such transactions by debiting either the sender's or the receiver's account.
It can get more complicated if the receiver transfers or withdraws the money immediately. Banks have, therefore, requested NPCI to first confirm with the receiving bank whether the transaction has failed, before sending this message.
Discomfort with on-boarding process
A few banks are also not comfortable with the on-boarding process, which requires only the last six digits of a debit card number and its expiry date. These details are easily obtainable, as people hand out their cards at point-of-sales (PoS) terminals. Banks have asked NPCI to make users key in their card's personal identification number when signing up.
Lack of merchant support
This is one of the key reasons for low transaction volumes. "Banks have not launched payment solutions for merchants on UPI," says Vivek Lohcheb, co-founder of Trupay.
Technology issues
Lohcheb points out that earlier if a person had dual SIM mobile phone and the registered number was not in the primary SIM slot, the registration would fail. Also, when a person changes his mobile phone, he would need to register again for UPI services.
Most believe things would be ironed out. "There are teething issues. Once those are resolved, most transactions in the country will be done on the UPI. No system in the world is as simple and as interoperable as the UPI," says Manju Agarwal, deputy managing director, corporate strategy and new business, SBI.
Agrees Sangram Singh, head of card and payments business, Axis Bank: "UPI is still in its early stage. Once there are sizable active users (50 million), it will see exponential growth. This should happen over the next two-three quarters."