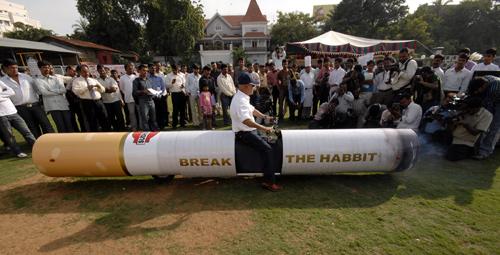 Health Minister Harsh Vardhan's recent request to Finance Minister Arun Jaitley - for an increase in tax on cigarettes from 45 per cent to 60 per cent in the coming Budget - seems to have had a serious impact on cigarette smokers' pockets.
A higher tax rate would fetch the government an additional Rs 3,800 crore of revenue, Vardhan had said.
Anticipating an imminent increase in duties in the Budget early next month, retailers in key metro cities like Mumbai and Delhi have already increased cigarette prices by as much as 44 per cent.
Since Thursday, 84-mm cigarette sticks of some of the popular brands like Classic, Gold Flake and Marlboro are being sold for Rs 12-13 each, compared with Rs 8.50-9 earlier. The smaller cigarettes (of between 69 mm and 74 mm), though, have seen a less steep price increase of Rs 2 a stick.
A pack of 10 king-size cigarettes (84-mm) is available for nothing less than Rs 90-95 at retail shops, compared with Rs 85 earlier.
The sudden steep increase in cigarette prices appears to be a chain reaction. While selling a cigarette pack with printed maximum retail price (MRP) of Rs 85 for Rs 90-95, your retailer blames his distributor, who, apparently, supplied the pack for Rs 87-90, instead of around Rs 80.
When contacted, a spokesperson for ITC, the country's largest cigarette manufacturer, said: "Retailers are prohibited by law from selling products above MRP. If they overcharge, they are liable to be prosecuted by the authorities. ITC prints the MRP on its cigarette packets in compliance with the package commodities rules. It sells cigarettes to wholesale dealers on a principal-to-principal basis. These wholesale dealers sell to secondary wholesalers (distributors), who then sell to the retailers. These retailers are the point of sale for common buyers."
Some retailers say the price of a pack of 10 could hit Rs 100, as there is a shortage in supplies. A top cigarette company source, however, seems to defend the distributors. He suggests the retailers are wrongly blaming the distributors for choking supplies, so that they can sell the cigarette stocks at higher rates.
Though the phenomenon of a rise in cigarette prices ahead of the Budget is not new — every year, a price increase is seen a fortnight before the Budget — the rise of 44 per cent this time is much steeper than the usual 15-20 per cent.
Cigarettes, which constitute only 12-13 per cent of India's total organised tobacco consumption, give the government nearly 80 per cent of its tax revenues from tobacco products. It is estimated that just the excise revenue from cigarettes is Rs 15,000 crore, since this product is taxed at a rate 47 times higher than other tobacco products like bidis, say industry sources. However, growth of the Rs 30,000-crore cigarette industry has been almost stagnant for some time.
Health experts, however, welcome the steep increase in cigarette rates. They say this might bring down consumption of cigarettes. India is home to roughly 10 per cent of the world's tobacco smokers — next only to China. India is also the world's third-largest tobacco leaf producer.
UP IN SMOKE
Steep hike: An increase in cigarette prices ahead of the Budget is common, but the 44% rise this year is much steeper than the usual 15-20%
The trigger: Health Minister Harsh Vardhan's letter to the finance minister asking for a raise in tax on retail price of cigarettes from 45% to 60%
Revenue angle: The increase in taxes is estimated to fetch the govt Rs 3,800 crore of additional revenues (govt gets over Rs 15,000 crore from excise duty levied on cigarettes)
The most taxed: Cigarettes account for only 12-13% of total tobacco consumption, but are the most taxed tobacco products
The idea: India is home to roughly 10% of the world's tobacco smokers, the most after China. An increase in rates is aimed at discouraging cigarette consumption, health experts say

Image: Car designer K. Sudhakar drives a cigarette shaped motorcycle in Hyderabad.

Krishnendu Halder/Reuters