The United Nations on Wednesday pared down India's growth forecast by 20 basis points to 5.8 per cent for 2023 calendar year, citing higher interest rates and risks of recession in the developed world weighing on investment and exports.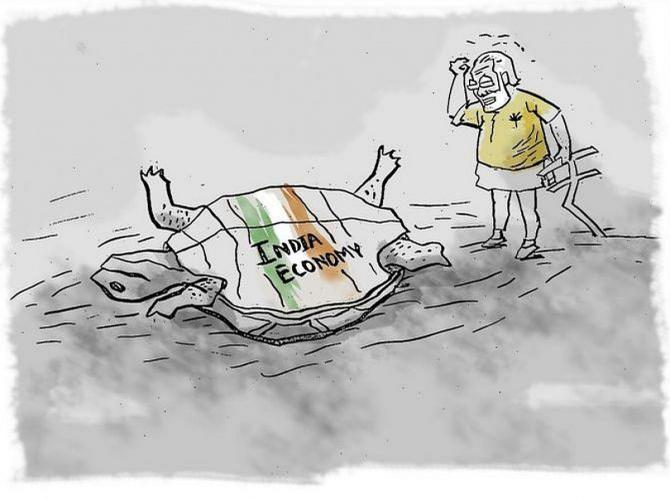 "Economic growth in India is projected to moderate in 2023, with higher interest rates weighing on investment and slower global growth weakening exports," it said in its latest World Economic Situation and Prospects report.
The report has projected global trade to contract 0.4 per cent and the world economy to grow at 1.9 per cent in 2023.
"Global trade has softened due to tapering demand for consumer goods, the protracted war in Ukraine and continued supply chain challenges," the report said.
For fiscal year 2023-24, however, the agency kept its growth forecast unchanged for India at 6 per cent.
United Nations Secretary-General António Guterres cautioned that the fiscal space of developing countries was under siege from exchange rate depreciation, high borrowing costs, and rising debt distress.
However, he argued against fiscal austerity.
"This is not the time for short-term thinking or knee-jerk fiscal austerity that exacerbates inequality, increases suffering and could put the SDGs farther out of reach," he said.
The report projected India's retail inflation to decelerate to 5.5 per cent in 2023 from 7.1 per cent in 2022 as global commodity prices moderate and slower currency depreciation eases imported inflation.
The report said the Reserve Bank of India (RBI) began monetary tightening later than most advanced economies in the second quarter of 2022.
"As the (South Asia) region's central banks prioritise bringing down inflation and keeping consumer inflation expectations anchored, further interest rate increases are expected in 2023," it said.
The UN said higher interest rates were leading to higher debt-servicing costs for developing countries.
"In India, the additional interest payments would amount to 8.7 per cent of total government expenditures," it said.
Among the large economies, according to the report, the unemployment rate dropped to a four-year low of 6.4 per cent in India, as the economy added jobs both in urban and rural areas in 2022.
"But youth employment remained below pre-pandemic levels, particularly among young women, given the pandemic's severe impacts on economic sectors where women tend to cluster," it added.
The report highlighted that apart from restoring price stability through interest rate increases, India, Indonesia, Malaysia, and the Maldives, among others, are cushioning the impact of higher food and fuel prices through subsidies.
Global economic growth is projected to slow to 1.9 per cent in 2023 from 3 per cent in 2022, marking it one of the lowest growth forecasts in recent decades.
"The slowdown cuts across both developed and developing countries, with many facing risks of a mild recession in 2023.
"Severe and mutually reinforcing shocks have hit the world economy, causing further setbacks to sustainable development progress," the report said.
According to the report, growth in China is projected to moderately improve in 2023 to 4.8 per cent in 2023 from 3 per cent in 2022 with the government abandoning its zero Covid-19 policy in late 2022 and easing monetary and fiscal policies.