Modi's 'UDAN' project faces fund crunch as too many airlines have come on board
Illustration: Uttam Ghosh/Rediff.com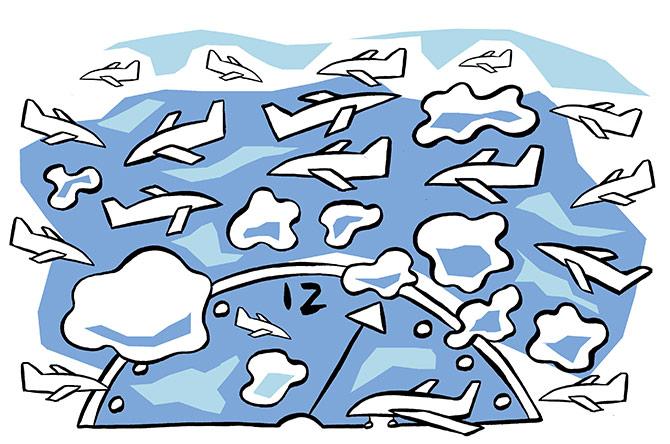 The Narendra Modi government's flagship aviation scheme, UDAN, is facing a funds crisis because the number of participating airlines has increased manifold.
While the government's initial assessment for the scheme was Rs 3 billion, a manifold rise in the number of participating airlines has increased the requirement to Rs 12 billion.
The government has received bid proposals for 502 routes in the second round, compared to 128 in the first round.
The bidding process for the second round was completed on December 21, but the Ministry of Civil Aviation has not awarded the routes because it is running short of money to pay viability gap funding (VGF) to operators.
In order to attract airlines to fly to remote areas, which may be commercially unviable, the government gives VGF under the scheme, besides offering concessions in parking charges at airports.
While the central government contributes 80 per cent of VGF, the remaining comes from state governments.
In the case of north-eastern states and union territories, the sharing ratio is 90:10.
Explaining the reason for the paucity of funds, a senior government official said many new airlines had participated in the second of bidding and VGF was critical for them in starting operations.
A second reason is that government-owned helicopter operator Pawan Hans has shown an interest in many Northeastern routes.
Unlike SpiceJet, which, in the first round, had opted to operate without VGF, the new airlines need financial support. Zoom Airlines, which started operations last year, has bid for 40 routes.
"We haven't got any information from the government. Yet we are ready to start operations whenever we are awarded the routes," said Koustav Dhar, managing director, Zoom Air.
The aviation ministry has informed the finance ministry of the situation and asked for more funds.
"If we don't get sufficient budgetary support, there may be a requirement to increase the regional connectivity levy," the official said.
This may become a contentious issue because major airlines had moved court when the levy was announced during the first round.
The government puts a levy of Rs 5,000 per flight on key metro routes, which translates into around Rs 50 per passenger. Experts support the move.
"In view of competing priorities at Government of India level, the sustainability of the scheme may need resources within the sector, such as, for instance, the small passenger levy proposed by the ministry," said Peeyush Naidu, partner, Deloitte Touche Tohmatsu India.
Big dreams

The ambitious UDAN project aims to provide air connectivity to small towns
Round 1
128: No. of routes approved
Airlines selected: Alliance Air, SpiceJet, Trujet, Air Deccan, and Air Odisha*
First flight: Alliance Air operated first UDAN flight between Delhi and Shimla in April last year
Round 2
502: No. of routes for which bids have been received
Companies taking part: IndiGo, SpiceJet, Jet Airways, Zoom Air, Pawan Hans
All airlines have started flights except Air Odisha