While okra was being sold for Rs 100-120 a kg and cauliflower for Rs 120-140 a kg in Mumbai and its suburbs, all other vegetable prices have increased by almost 100 per cent since July 20.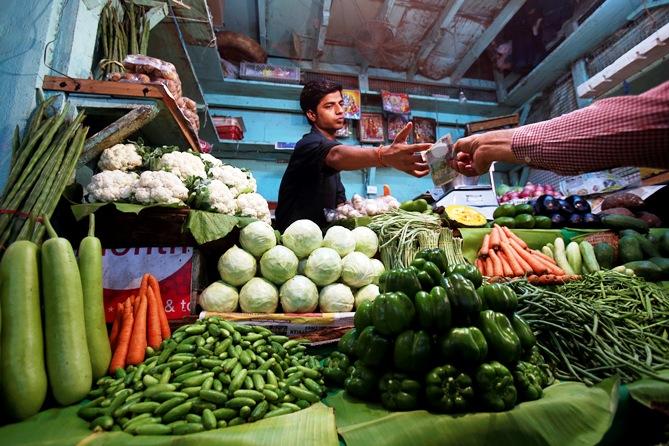 Five days of strike by transporters has raised prices in South and West India. However, North India witnessed normal cargo handling on Tuesday at Azadpur, its biggest fruit and vegetables wholesale market or mandi.
Due to the ongoing strike, trade worth Rs 70 billion has been affected in Tamil Nadu, said the All India Motor Transport Congress. Vegetable prices are soaring in various parts of the state, especially in Chennai.
Stocks of textiles have piled up in Tirupur, Karur, Erode and other major production centres. "The ongoing indefinite lorry strike has impacted Tirupur's knitwear exporting units as they cannot transport the finished garments," said Raja M Shanmugham, president at Tirupur Exporters Association.
In the "season-conscious and design-driven export market", on-time supply is a major factor at a time when Indian exporters are competing with those from Bangladesh, Cambodia, Myanmar, Sri Lanka, Pakistan, Vietnam, and China, he added.
Delhi's Azadpur market, however, saw some supply disruption in the first two days. Onion and potato prices have moved up by Rs 1-1.5 a kg, but things normalised on Tuesday.
Almost 68 trucks of onions arrived at Azadpur, which is normal during this time of the year. The prices quoted was between Rs 10 and Rs 16 a kg. Around 121 trucks of potatoes also arrived. Rajendra Sharma, an onion trader and former chairman of Azadpur APMC, said the impact on potato supplies and prices was minimal. "The market is normal," he added.
Rajkumar Bhatia, a fruit seller in Azadpur and former member of the APMC, said the strike had not impacted supply of fruits in Delhi and the National Capital Region.
The reason could be that transporters have exempted essential commodities. AIMTC spokesperson GP Singh said, "Transporters are not taking orders, but essential services have been exempted."
On reports of the strike being unsuccessful in certain pockets, Singh said, "Around 3 per cent leakage (truckers not participating in the strike) is always there."
S P Singh, convenor at Indian Foundation of Transport Research and Training, a counter lobby group of transporters, said it was not a strike and could be called "a disruption". "There are 75 trunk routes and five million trucks in the country. They are all functioning. No school or chartered bus has joined the strike," he said.
In the western region, prices have jumped by 50-60 per cent at the wholesale mandi in Vashi near Mumbai. Okra was being sold for Rs 100-120 a kg and cauliflower for Rs 120-140 a kg in Mumbai and its suburbs. All other vegetable prices have increased by almost 100 per cent since July 20.
"Vegetables' supply was hit due to continuous rain for about a week. The strike has added fuel to fire. Till supply is restored, vegetables prices will remain firm," said Sanjay Bhujbal, a wholesaler at Vashi APMC. Similarly, fruits have become costlier by almost 50 per cent in four days.
C Dhanaraj, secretary of the State Lorry Owners Federation (Tamil Nadu), which is spearheading the strike in the state, said almost its entire 460,000-strong truck force was off the roads. This is causing a loss of Rs 3 billion every day, he added.
G R Shanmugappa, south zone general secretary of the AIMTC, said goods worth Rs 70 billion were stuck in various parts of the state due to the strike.
Shanmugham added that given the nature of production activities in Tirupur, the stoppage of vehicle movement from garment to outside units, such as knitting, dyeing, and compacting, among others, will affect production. Further, he said these working units will not be in a position to provide work to their employees.
Reports said tension prevailed at the goods yard in Namakkal railway station.
Vegetable prices at Chennai's Koyambedu market have gone up by 15-20 per cent. Tomato prices have increased by Rs 5-25 a kg. Prices of big onions have increased by Rs 5-25 a kg, while small onion prices have gone up by Rs 25-65 a kg. Potato prices have increased by Rs 6 -25 a kg, green chilli prices have risen by Rs 5-35 a kg, and carrot prices have increased from Rs 20-25 to Rs 50-55 a kg.
In order to placate striking transporters, the GST Council on Saturday had announced a standard procedure for filling up forms under the e-way Bill. It also decided to waive penalty in case of minor mistakes.
Truck operators are demanding the closure of toll plazas across the country. They are pressing for numerous demands, including a reduction in fuel prices and a uniform national pricing with quarterly revision.
Photograph: Vivek Prakash/Reuters.