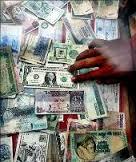 Policymakers scrambling to keep the world economy from settling into the 'new mediocre' of sluggish growth can no longer rely on global trade to do the heavy lifting.

International trade helped the global economy tide over rough spots over two decades before the financial crisis, when it grew nearly twice as fast as economic output, but this engine is running out of fuel.

That is bad news for officials taking part in discussions at the International Monetary Fund and World Bank meetings this week, focused on preventing what International Monetary Fund chief Christine Lagarde warns could be a long spell of sub-par performance for the global economy.

The impetus from China and Russia opening their doors and the emergence of global supply chains, linking factories in emerging markets with rich consumers in the developed world, has largely run its course, economists say.

"It's that particular engine which seems to have exhausted its propulsive energy for now," said World Bank trade specialist Aaditya Mattoo.

The McKinsey Global Institute calculates trade and cross-border financial flows contribute up to a quarter of global growth, leaving policymakers with a gaping hole to fill if trade shifts into a lower gear.

As the IMF cut its global growth outlook, it also forecast annual trade growth to average just 4.2 per cent in the 10 years starting in 2016, compared to 6.7 percent in the decade leading up to the 2008-2009 financial crisis.

One reason for that downgrade is obvious enough: it is hard to replicate the effect of an economy of China's size tearing down trade barriers.

Add to that slower growth in other emerging markets as they become richer and have less catching up to do, a smaller wage gap between developed and developing nations and a renewed leaning to make inputs for final products close to home.

NEW SPARK NEEDED

RBC Global Asset Management chief economist Eric Lascelles predicts trade's contribution to growth will be half a percentage point lower than in the previous two decades -- half of that because of weak global demand, trade barriers and geopolitical tensions and half reflecting permanent changes in trade dynamics.

"We could expect some of the lost trade to come back but realistically a lot of it is probably gone forever and we may actually be in an area of diminished globalization, primarily via lower trade flows but perhaps also via less on the migration front and less on the financial flows front," he said.

The pressure is on policymakers to regain as much momentum as possible through far-reaching regional and global pacts and standards under the aegis of the World Trade Organization.

"We have been living too much off past trade liberalization," WTO Director-General Roberto Azevedo told the IMF's steering committee, urging policymakers to support a global pact to cut customs red tape, now stalled by opposition from India.

Economists estimate that those changes, when fully implemented, could boost global output by $1 trillion per year, equivalent to a 1.3 per cent boost to the world economy.

That's roughly twice as much as the combined impact of major trade deals being negotiated between the United States and Europe and another between 12 Pacific Rim countries, including the United States, Japan, Canada and Australia.

Economist Ed Gresser, from Washington-based think tank Progressive Economy, said services trade could expand as technological innovations made it easier to provide services like education and healthcare across borders.

In the United States alone, internet-friendly services such as communications and financial services had grown to make up 11.7 per cent of exports by 2012, from 7.6 per cent in 2000.

"The natural path of that should be to bring services up, in the same way that manufacturing trade grew relative to resources and agriculture in the second half of the 20th century," he said.

HSBC global chief economist Stephen King said there was also potential to increase trade among countries in Latin America, Asia, the Middle East and Africa, which had not been fully captured by recent waves of trade growth.

But he said an increase in so-called south-to-south trade and increased demand for services in developing countries would fall short of the 0.5 to 1.0 percentage point boost trade had given to global growth, on average, since the 1950s.

"Once you have opened up all those opportunities, you can't keep opening them up because there are no more opportunities to open," he said.
Image: A currency dealer displays various currencies at his roadside money changer stall. Photographs: Athar Hussain/Reuters