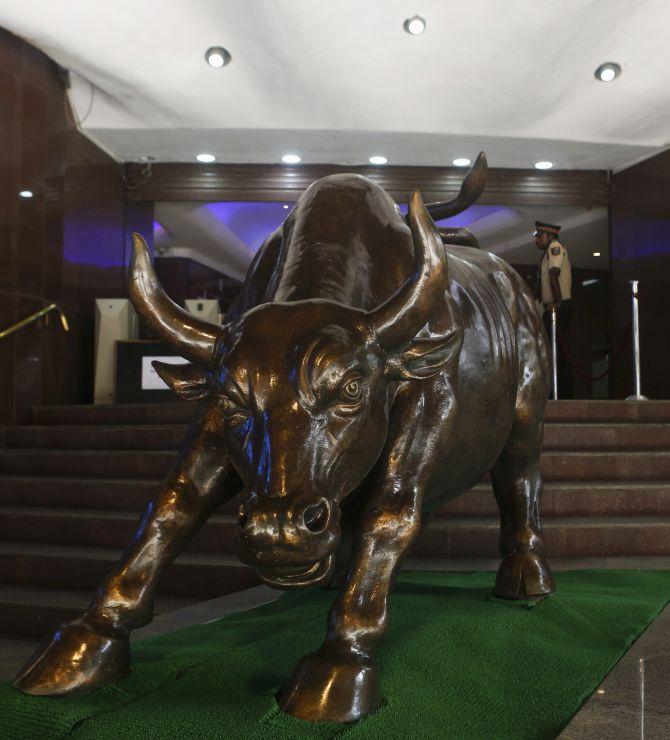 The market valuation of top five Sensex companies fell by Rs 36,971.61 crore (Rs 369.71 billion) last week, with ONGC and Sun Pharma being the worst hit.
While ONGC, RIL, CIL, Infosys and Sun Pharma saw losses in their market capitalisation (m-cap), TCS, ITC, HDFC Bank, SBI and ICICI Bank witnessed gains.
The m-cap of ONGC plunged Rs 11,421.58 crore (Rs 114.21 billion) to Rs 3,67,158.86 crore (Rs 3.67 trillion), while Sun Pharma lost Rs 10,749.03 crore (Rs 107.49 billion) to Rs 1,66,910.28 crore (Rs 1.66 trillion) from its valuation.
Coal India's value dipped Rs 8,400.77 crore (Rs 84 billion) at Rs 2,26,094.26 crore (Rs 2.26 trillion); Infosys (Rs 3,327.7 crore (Rs 33.27 billion) at Rs 2,10,879.62 crore) and RIL (Rs 3,072.53 crore (Rs 30.72 billion) at Rs 3,28,501.95 crore).
On the other hand, the m-cap of SBI surged Rs 8,227.23 crore (Rs 82.27 billion) to reach Rs 1,96,020.23 crore (Rs 1.96 trillion), while ITC added Rs 4,421.88 crore (Rs 44.21 billion) to touch Rs 2,83,518.18 crore (Rs 2.83 trillion).
ICICI Bank's market valuation rose by Rs 1,943.15 crore (Rs 19.43 billion) at Rs 1,81,069.22 crore (Rs 1.81 trillion), TCS (Rs 1,733.47 crore (Rs 17.33 billion) at Rs 5,10,415.13 crore (Rs 5.10 trillion) and HDFC Bank (Rs 1,677.83 crore (Rs 16.77 billion) at Rs 2,06,458.39 crore (Rs 2.06 trillion).
In the ranking of top-10 firms, TCS stood at number position followed by ONGC, RIL, ITC, CIL, Infosys, HDFC Bank, SBI, ICICI Bank and Sun Pharma.
Over the past week, the BSE benchmark Sensex gained 34.34 points to close at 27,061.04.