'The time is ripe for a merger of eight fund houses indirectly owned and controlled by the central government,' says N Sundaresha Subramanian.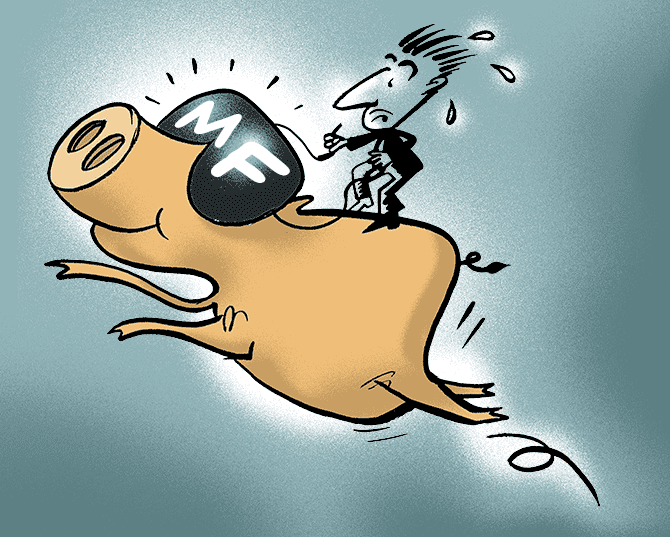 Illustration: Dominic Xavier/Rediff.com
Mutual funds never had it better.
Assets under management has crossed Rs 20 lakh crore.
Inflow numbers have begun to look like what used to be the size of the entire industry.
Taking advantage, one of the large private fund houses has hit the bourses and had a decent listing.
Systematic Investment Plan (SIP) flows continue to be robust. Data from the Association of Mutual Funds in India show monthly addition of 0.89 million SIP accounts during 2017-2018, the average size being Rs 3,250.
Interestingly, the non-SIP flow also remains high.
Last month, the total collected through SIPs was Rs 5,621 crore, over a third of the Rs 15,218 crore that came into equity funds.
Some credit should go to the industry, which has run an aggressive 'Sahi Hai' campaign to take it to the masses. But a lot of credit also goes to the lacklustre performance of realty and gold, amid the crackdown on unaccounted money and the rising markets.
Sentiment remains so upbeat that people feel MFs are the answer to almost anything.
Such euphoria usually calls for caution but could also be used to push long-pending reform measures.
Though the private sector has grown by leaps and bounds in the past decade or so, the government continues to have a large presence in the sector.
Of the 42 fund houses, eight are indirectly owned and controlled by the central government. There are six bank-sponsored fund houses -- SBI MF, Canara Robeco, Baroda Pioneer, IDBI, Bank Of India AXA and Union MF.
Punjab National Bank, which had a minority stake in its joint venture with Principal, has since exited the venture.
However, the second largest public sector bank has a minority stake in UTI, along with SBI, Bank of Baroda and the Life Insurance Corporation.
LIC itself separately runs another fund house, for which it had partnered with Japanese financial major Nomura.
Apart from SBI, which has assets of Rs 1.88 lakh crore, and UTI (Rs 1.5 lakh crore), the others have not been able to build meaningful scale.
Canara Robeco and Baroda Pioneer were among the older crop which tried to reinvent themselves with foreign partners.
Bank of India, IDBI and Union Bank are relatively new entrants.
The capital strapped banks have been talking about exiting non-core businesses, even as talk of bank mergers have been floating around.
It will not be a bad idea to merge these fund houses to create a behemoth, as the government has been trying to do in oil & gas.
These eight fund houses have a combined corpus of about Rs 4.5 lakh crore, roughly a fourth of the sector. There are foreign partners which need to be provided exits or compensation. Concerns of staff need to be addressed.
But the benefits of such a merger would far outweigh the negatives, it appears.
There will be a lot more clarity for bank staff selling MFs -- they can sell one brand.
The move will also address the continuing non-compliance with the 'one sponsor, one fund house' rule by SBI, LIC and BoB, as they hold stakes in UTI MF in addition to their own fund houses.
Listing such a market leader could fetch a handsome premium in the market.
It is not a completely new idea, first floated over a decade ago and has come up in various forms over the years. Perhaps the time is ripe now.