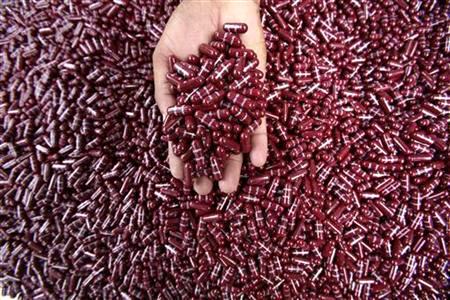 Telangana chief minister K Chandrasekhar Rao on Wednesday announced the establishment of a massive industrial park dedicated to pharmaceutical manufacturing activities.
The proposed 'Hyderabad Pharma City' will come up in an area of 11,000 acres at Mucherla in the neighbouring Rangareddy district and will be designed as a self-contained facility with residential townships for people working there in addition to a pharmaceutical university and a research centre among other things.
The chief minister conducted an aerial survey of the proposed location accompanied by the chief executives of some of the prominent Hyderabad-based pharmaceutical companies like Dr Reddy's Laboratories and Aurobindo Pharma and senior government officials before finalising the location.
The project would be developed as a zero liquid discharge facility while adequate safeguards will be taken to make it environmentally safe and pollution-free, according to the chief minister. "The local companies alone have committed to invest about Rs 30,000 crore or Rs 300 billion in this project."
Through this project at least 70,000 people would get employment either directly or indirectly," Rao said.
He directed the officials to expedite the work on the project. Special chief secretary - industries department Pradeep Chandra said they would be holding a separate meeting with the top brass of the pharma companies in a day or two to identify the basic requirements before getting into master planning and other aspects of the project. On the question of funding, he said the government would be considering various options like floating a special purpose vehicle with public-private participation or a complete government funding before arriving at a suitable investment model.
"A fair picture on all the aspects of this project is likely to emerge in a couple of months. With the speed at which the government would want to proceed on this project, next year seems very far away," he told Business Standard when asked about its possible time frame.
The Telangana government has listed pharma and IT as the top two priority sectors in its recently announced industrial policy.
As Hyderabad already has a huge manufacturing base in bulk drugs and formulations, the government plans to further build on this front by providing a hassle-free environment for the expansion of the existing units as well as attract fresh investments from outside.