Its plans, to cut tariffs by 40% or offer more data, comes bundled with 1 GB high speed data for 28 days with unlimited voice thrown in.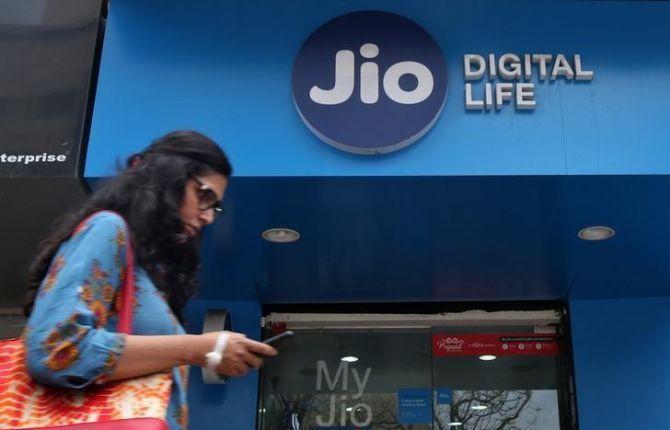 It is perhaps the most aggressive onslaught by Reliance Jio to woo over 500 million feature phone users who use no or very little data.
During the last few weeks of January, Jio has effectively lowered its tariffs by 40-50 per cent through two successive offerings, either offering more data at the same price or lowering the tariff.
What has taken the industry by surprise is the company's limited-period Jio phone plan (the feature phone for which you pay Rs 1,500 upfront effectively comes free), which comes bundled with 1 GB high speed data for 28 days with unlimited voice thrown in.
It has also introduced a new plan for only Rs 98 that will offer unlimited voice and 2GB data per month for 28 days.
Analysts at Kotak Institutional Equities have said in a report that the company's attempt to convert a traditional industry into a winner-takes-all construct leaves them with no fair basis to value stocks like Bharti Airtel and Idea Cellular.
As a result, they have decided to regard Bharti as non-rated and suspend TP on the stock.
Kotak also said it had no basis for forming a view anymore of what Jio wanted.
However, based on information from those privy to Jio's plans, the new aggression is primarily aimed at acquiring 400 million customers, over a third of the mobile subscriber base.
Jio now has over 150 million subscribers. Sources say it expects 250 million customers will be using Jio feature phones over the next 12-18 months.
Around 12 million customers have bought the feature phones, which no longer need prior booking and are available in stores across the country.
To achieve this target, Jio is clearly aware it has to woo a large chunk of feature phone users.
Its new tariffs are meant to do that and ensure a switch does not lead to an extra monthly burden for subscribers.
The company is clearly targeting the incumbent telecom companies, 60-65 per cent of whose subscribers are still on 2G.
For instance, the Rs 48 and Rs 98 offers are lower than the average revenue per user of Idea Cellular which, based on its latest quarterly results, stood at Rs 113. Bulks of these are 2G users.
Bharti has a slightly higher ARPU at Rs 123, and was able to match Jio's earlier tariff, which might be one reason why the Mukesh Ambani-led firm has responded once again.
It is also speedily launching 4G services across the country, a process that is expected to be completed by the end of March.
The older players could, of course, play the pricing game, but that will dent their margins further.
Estimates by Morgan Stanley say about half the revenues of the incumbents are exposed to feature phone users.
Analysts also point out that Jio has other arrows in its quiver: it could reduce the upfront payment for a Jio phone, making incumbent firms' offerings of low-end smartphones with cashback offerings unattractive.
Competitors argue that Jio is indulging in predatory pricing and numerous petitions to the telecom regulator have been turned down.
"By allowing Jio to corner a large part of the market and killing competition, you are also killing the industry," said a senior executive with a leading telecom company.
Analysts also point out that 80 per cent of Jio's subscribers are owners of dual SIM cards, so the shift of subscribers from some incumbents to Jio is exaggerated.
Also, analysts say that the new pricing will surely lead to a dent in Jio's revenues per user and with a relatively large subscriber base its revenues will be affected.
Photograph: Shailesh Andrade/Reuters