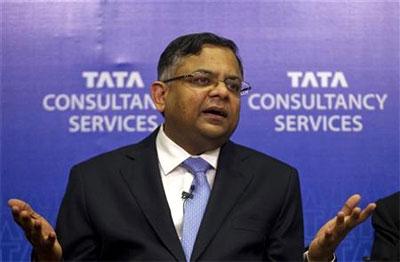 IT giant Tata Consultancy Services has been rated as the top company in India in terms of market capitalisation, as per a list compiled by Dun & Bradstreet.
The list of top 500 firms places Reliance Industries and ITC at the second and the third spots respectively.
Others in the top 10 list are ONGC at the 4th place, followed by Coal India (5th), Infosys (6th), HDFC Bank (7th), HDFC (8th), Hindustan Unilever (9th) and State Bank of India (10th).
Highlighting the key insights, Dun & Bradstreet India president & MD Kaushal Sampat said there is a remarkable increase in optimism about India and its economic prospects over the last 12-18 months.
However, the situation through the third quarter results (April 2014-December 2014) for the top 500 companies shows that "while recovery is under way, the pace remains a concern".
This 2015 list has 51 new entrants as compared to 45 in the last edition.
According to D&B, the top line growth for the 500 companies slowed down to 8.7 per cent in FY 2014, compared to 11.7 per cent in FY 2013, largely due to tightened demand and macroeconomic pressure.
Meanwhile, the average profit after tax of the top companies decelerated from 8.6 per cent in FY 2013 to 2.4 per cent in FY 2014.
Interestingly, though PSUs account for less than 14 per cent of top 500 companies in terms of absolute numbers, they contribute to around 40 per cent of the aggregate total income and aggregate net profit of the top rated firms.
The criteria for ranking the companies are total income, net profit and networth. The list includes both private sector companies as well as public sector enterprises (PSEs) that are listed on stock exchanges.
The companies were short-listed on the basis of their market capitalisation on the BSE and the National Stock Exchange.