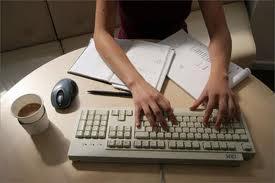 It's Saturday morning, when most people would either lounge at home or, if they're particularly energetic, head out for brunch or to crawl one of the many malls in Bangalore. Yet, the auditorium on the premises of Sasken Technologies is nearly full.

'Startup Saturday', organised by Headstart Network Foundation once a month in various cities, is under way, and the audience -- entrepreneurs (aspiring and established), angel investors, mentors and students -- have gathered to listen to various speakers on "Lean Startups".

The atmosphere may be casual, with T-shirts the preferred attire (some with the name of start-ups), but the audience listens to every word in rapt attention.

Among the event's volunteers is Shalini Nautiyal, a postgraduate in computer applications who has worked in the info-tech industry for eight years and moved to Bengaluru from Gurgaon to be closer to the startup action.

The 33-year-old quit her job and launched Yipeedo, a website that helps plan your entertainment in the city, with her savings.

"I had just had a baby and I felt that if I don't do it now, I never will."

For IIM Ahmedabad graduate Setu Saurabh, co-founder of taxi-sharing solutions provider Rideshare, the motivation was the desire to do something that would be a game-changer.

The startup was incubated at Saurabh's alma mater and got Rs 5 lakh as funding.

It is now one of the 25 start-ups working out of Jaaga in Bangalore, which provides co-working space for start-ups.

The 27-year-old says his parents did not understand his decision entirely and would have preferred that he take a steady job.

"But I told them this was something I was passionate about and wanted to give it a shot," says the former consultant at IBM.

While most Indians would still prefer the security of a regular job, there are an increasing number willing to risk everything and be part of the startup ecosystem taking shape in India, albeit gradually.

People like Saurabh and Nautiyal are no longer exceptions, as the numbers show.

At the Microsoft Ventures office in Bengaluru, which runs a four-month accelerator programme to help startups reach their goals faster, its head, Ravi Narayan, says the number of applications he receives has increased dramatically.

"We started with 200 applications or so in the first batch which has shot up to over 1,300 in our fifth and latest batch," he says.

The start-ups occupy an expansive, brightly lit space on the ground floor, with a little sign next to each with its name.

The main conference room is titled "The Garage", in a hat-tip to the famed garages in Silicon Valley where billion-dollar companies were born.

Nor is Bangalore the only city to see the startup rush. In Mumbai, Powai is attracting armies of young entrepreneurs, especially tech startups, and famous "graduates" include Ola Cabs and Housing.com.

The proximity to the IIT there, which has an incubation cell, helps.

Kerala has Startup Village, an initiative of the state government, which is looking to launch 1,000 technology startups over 10 years and has received 3,175 applications so far, of which 679 have been supported.

The model will now be replicated in Andhra Pradesh. Rajasthan, Madhya Pradesh and Himachal Pradesh are also reportedly in talks to launch their own versions. In the National Capital Region, Gurgaon is home to a host of start-ups (175, according to the list on angel.co), including investor-favourite Zomato and travel portal Ixigo.

The Centre, on its part, announced a Rs 10,000-crore fund for startups, micro, small and medium enterprises.

All this is a far cry from the mid-2000s, recalls Narayan who launched and sold two start-ups in the US and set up Mentor Partners in 2006 to help entrepreneurs, before joining Microsoft Ventures.

"Back then, there was no angel funding, no seed funding and only the big venture capital players were around.

"A lot of them even shut shop and left saying there aren't enough companies to invest in." Even the mindset about start-ups was very different in those days, says Manish Singhal, an angel investor and entrepreneur.

"In 2001, I was trying to hire someone for my startup and his parents actually came to the office to see whether it existed. Then, when he was getting married, his prospective in-laws called me to check whether it would be alright to get their daughter married to him!"

The sea change in attitude, Singhal says, is aided in no small part by the many role models aspiring entrepreneurs now have in the industry.

And none has attained the status of former Amazon employees Sachin Bansal and Binny Bansal and their venture, Flipkart, now a household name.

From delivering packages on their two-wheeler when it was launched in 2007 as an ecommerce site for books to an online marketplace now valued at $7 billion, it has been something of a fairytale for the duo.

But they are not the only ones.

At the glitzy Global Mobile Internet Conference, when the moderator asked if there was anybody in the audience who did not know who his guest, Snapdeal co-founder Kunal Bahl, was, very few hands went up.

Bahl, Sachin Bansal and Naveen Tewari, founder of mobile advertising company InMobi valued at $1 billion, were among those mobbed by the press at the event.

Mumbai-based Anurag Kedia, ex-IITian and founder of Four Fountains, a chain of affordable spas, has an interesting analogy.

"Thousands land up in Mumbai to become film stars because they have seen Shah Rukh Khan, who made it big without a legacy.

"Similarly, success like Flipkart and Ola Cabs are the Shah Rukhs of entrepreneurs, and investors are willing to place bets on them."

"Willingness to place bets" might be an understatement.

Flipkart raised over a billion dollars recently, while Snapdeal collected over $200 million.

While these are exceptionally large investments, it would appear that there is enough venture capital flowing into startups to inspire aspiring entrepreneurs.

Last month, online classifieds startup Quikr raised an impressive $60 million in its seventh round of funding, taking total investments in the Mumbai-based firm to $196 million.

The same month saw realty search startup Commonfloor, launched in 2007 by ex-IITians, raising $30 million in a round led by Tiger Global.

Rival startup Housing.com, also led by IITians, raised Rs 115 crore (Rs 1.15 billion) in the first quarter this financial year, and is reportedly in talks to raise another Rs 180 crore (Rs 1.8 billion).

According to private equity and venture fund database firm Venture Intelligence, 2014 has so far seen $306 million being invested by venture capital funds in 110 deals.

Last year, these funds pumped in $378 million in 160 deals involving start-ups.

Numbers like these have left people asking if there is a bubble building up in e-commerce, reminiscent of the dotcom boom and bust of the late 1990s and early 2000s.

Sharad Sharma, cofounder and governing council member at software product industry body iSpirt Foundation as well as an angel investor, strikes a note of caution.

"There is a valuation bubble in e-commerce right now. . . like in airlines, investors don't make money in e-commerce because the industry always operates at the margin structure of the most desperate player in the market."

Rahul Jain, co-founder of mobile application testing firm Appurify which was bought by Google this June, also feels there may be a bust "in some sectors" but not in the industry as a whole.

There is bound to be a fair number of businesses going bust in the sector, given the low entry barriers.

As Maple Capital Advisors Managing Director Pankaj Karna says, failure is an inescapable part of this story. "If investors start seeing decline in some of these companies, they may pull the plug.

Companies such as 99labels couldn't keep up and folded. Anywhere you look, out of 50 or 100 companies, only one or two succeed."

At the moment, nobody wants to believe the doomsayers.

"The venture business is well known for going through these types of cycles… and the pundits always come out of the woodwork to proclaim the death of venture capital or that the bubble is around the corner.

"While I never try to predict either the stock market or valuation levels, I can tell you that ecommerce in India is for real and here to stay," Ravi Gururaj, head of Nasscom Product Council, is emphatic.

Last year, Nasscom, the lobby group for the info-tech industry, launched an initiative to enable 10,000 startups in 10 years.

Among those betting big on the e-commerce boom are Bangalore-based investor couple Meena and K Ganesh, who sold their online education business TutorVista to Pearson at a valuation of $213 million and are now promoters of online grocery retailer Big Basket, one of the four ventures they are closely involved with.

Last month, Big Basket raised Rs 200 crore (Rs 2 billion) from venture capital funds, taking its valuation to Rs 1,000 crore (Rs 10 billion).

(Interestingly, the team running Big Basket was also behind India's first e-commerce venture, Fabmall, which rode the dotcom boom of the late 1990s.)

Meena Ganesh says while dotcom businesses were just about getting eyeballs, now there are real transactions and revenue flow happening.

Even with valuations, K Ganesh says they always seem expensive in the short term and cheap in the long term.

"The same people who ask why Flipkart should be valued at $6-7 billion also ask why it should be valued at $1 billion," he says.

But while there may seem to be a steady deal flow in startups at later stages, entrepreneurs point out that raising seed capital remains a challenge.

"The seed gap, where the business has got to a stage where proof of concept has been established and there's some little revenue coming in, but still a lot more validation to be done before Series A folks get interested, is large.

The risk is still high," says Srikrishna Ramamoorthy, partner at Unitus Seed Fund. The fund evaluates 75 to 100 startups every quarter, a number that has steadily increased over the past 18 months. Another bottleneck is the lack of exits for investors.

The Indian stock market lacks the depth to absorb public offers from these startups.

However, Nexus Venture Partners co-founder Sandeep Singhal is optimistic about 2015-16.

"We are also seeing buoyancy in the primary market, and if that trend continues we expect many of the private-equity-funded companies to access the market," he says.

Nexus is one of the most active venture capital funds in startups.

The tricky question of valuations aside, there is near-consensus that the Indian startup ecosystem has a long way to go before it can be compared to the US or China.

"The US adds about 65,000 start-ups a year and China does 6,000, while India is just at 1,000.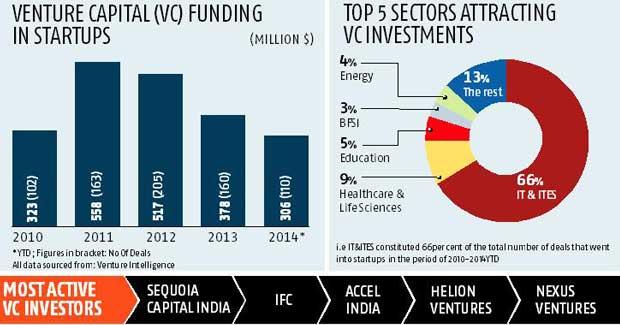 Where is the bubble there? I feel we should be at 6,000-7,000 startups a year, at least, which would be commensurate with the opportunities in India and the talent that we have," says Microsoft Ventures' Narayan.

Indian-American Vivek Wadhwa, a technology entrepreneur, academic and fellow at Stanford Law University, says the bubble has not even started inflating yet.

"We are at the early beginnings of a huge boom in entrepreneurship and innovation.

Over the next five to seven years, with affordable smartphones and Internet connections, 500 million users will be coming online, which will create amazing opportunities in infrastructure, commerce, health, and many other fields."
Wadhwa goes so far as to say India has a chance to leapfrog the West in technology usage.

That may or may not happen.

Even so, it looks like there has never been a better time to be an entrepreneur in India.