Increased and aggressive competition will bring down costs of services in the telecom space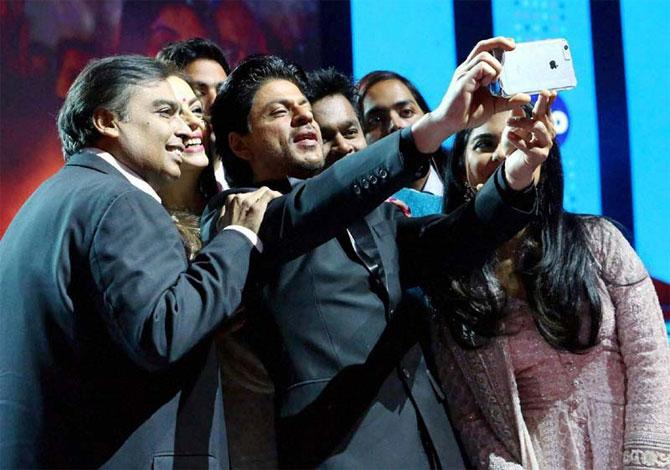 IMAGE: Mukesh Ambani's family and Shah Rukh Khan at Reliance Jio 4G launch. Photograph: PTI.
News of a likely delay in launch of Reliance Jio has resulted in some buying interest in its telecom rival Bharti Airtel and Idea Cellular. Reliance Jio's services might not be rolled out till the end of this year. The large-scale rollout is expected in December 2016 as the network is yet to stabilise and there are several 'blind spots' the company needs to fix.
Telecom industry and those observing it closely including analysts and market participants are anxiously waiting for the launch of Reliance Jio. Delay in launch not only raises issues about the company's capability in meeting the challenges and the robustness of technology but also gives its rivals chance to consolidate and milk the situation.
Irrespective of the time of launch, one thing is for sure, increased and aggressive competition will bring down costs of services in the telecom space. Reports say that Reliance Jio is expected to offer 35 GB of 4G data free the first three months on purchase of its smartphone.
Under the plan, customers will be able to use 10 GB of data per month at 4G speed and unlimited browsing after 10 GB of data per month at a lower speed of 256 kbps.
But analysts expect the competition to intensify further. A report by HSBC says that mobile data may become free. The report says that 4G new entrants may look at leveraging intranet-based data offerings in an attempt to take market share. Currently telecom companies monetise data connectivity and charge only for data usage.
However, HSBC points out that its success will depend on the penetration of 4G handsets, which at present is less than 5 per cent of the unique wireless subscriber base and even by year end; it is not expected to be more than 10 per cent of base (around 80 million).
HSBC says that the intranet route will be used to introduce cheap or free data. In a recent development, telecom regulator suggested that rules prohibiting differential pricing for data will not be applicable to intranet-based offering of telecom players.
This allows telecom players to have a B2B model by charging content providers/ ecommerce players a carriage fee and in turn subsidising subscribers' data services.
Intranet services are network based on internet protocols belonging to an organisation accessible only by that organisation's members. These are not available to the public from the Internet.
Telecom companies, in order to enhance value preposition can charge fixed fee and might integrate intranet with content around movies/sports and enhancing subscriber value proposition.
Such an approach may allow 4G entrants to ask for a fixed fee that is not directly linked to data usage, to target the medium/high ARPU (average revenue per user) data users and churn subscribers from top incumbent.
HSBC says that 4G entrants' ability to leverage data spectrum ownership, particularly 800 spectrum holdings and their ability to offer better content deals are working in their favour. Telecom companies on the other hand have not built up their strength in content, which gives the new 4G entrant a head start, provided they launch fast.
Reliance Jio by delaying its launch is giving other players a chance to catch up. A Bank of America Merrill Lynch report says that Reliance Jio will find poaching for clients difficult if it delays its launch to December. Perhaps it might have to sweeten the delay further for consumers to make it attractive, a move that will be appreciated by consumers but not by the investing community.