In the latest move, the telco has reduced validity for its Rs 309/509 packages from 84 days to 56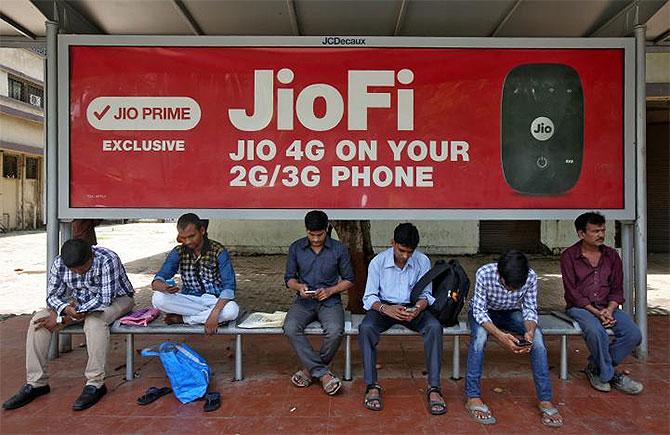 As Reliance Jio's promotional offer 'Dhan Dhana Dhan' ended on July 9, it announced new tariff plans with a reduced validity.
This comes as a breather to the telecom industry considering the discounts from the latest entrant earlier.
In the latest move, the validity has been reduced for its Rs 309/509 packages from 84 days to 56 days, while still limiting the internet data usage to 1 GB/day.
The Mukesh Ambani-owned firm has also announced two new tariff plans: Rs 349 for 56 days with 20 GB of total data usage and Rs 399 for 84 days with 84 GB of total data usage.
The company's 'Dhan Dhana Dhan' offer was launched on April 11, which ended on July 9 after the 90-day promotional period.
"We consider the move to be directionally positive for Bharti (Airtel) and India telcos sector as Jio is reducing its discounts/raising implied tariffs.
We consider this announcement to be largely in-line with market expectations and should help Bharti to get back traffic as discounts are reduced and implied tariffs are raised," Bank of America Merill Lynch (BoAML) said in a report.
Kotak Securities said the average revenue per user (ARPU) range of its plans now stands at Rs 122-661 versus Rs 97-630 earlier.
"The move is largely on expected lines. While Jio has not raised pricing to the base plan levels and continues to run an extra validity and/or extra data allowance promotional across most of its plans, we believe this is a positive move directionally.
It provides some breather (not relief) to the industry that has been reeling under the Jio promotion onslaught.
This move should provide the industry [with] an opportunity to stem the free fall in ARPU levels seen in the past three-quarters," Kotak said.
The impact of Jio's feature phone disruption, however, needs to be watched for.
"We consider feature phone launch by Jio (remains to be seen if it is announced at RIL AGM (annual general meeting) on July 21) to be the next catalyst for the sector as it would increase competitive intensity in the market," BoAML said.
Photograph: Shailesh Andrade/Reuters