Sikka promises to develop tech for event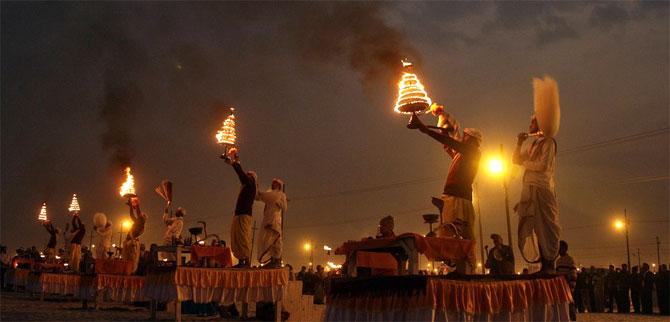 Image: Priests perform evening aarti on the banks of River Ganga during the Maha Kumbh Mela in Allahabad, Uttar Pradesh. Photograph: Jitendra Prakash/Reuters
Infosys, India's second largest information technology company, may become the latest to join technology groups that are working towards developing solutions to solve problems at the Kumbh Mela, a mass Hindu pilgrimage where millions gather to bathe in a sacred river.
According to agencies, Infosys chief executive officer and managing director Vishal Sikka on Wednesday said that the company will develop software solutions for managing the Kumbh Mela scheduled at Ujjain in Madhya Pradesh in 2016. Sikka was speaking to agencies after a meeting with Prime Minister Narendra Modi.
Kumbh Mela is considered to be among the world's largest religious gathering and is held every third year at one of the four venues -- Haridwar, Allahabad (Prayag), Nasik and Ujjain, by rotation. Over 20 million people are expected to visit the Kumbh Mela at Ujjain.
The festival tends to be a nightmare for city authorities and for the pilgrims due the number of participants. As per estimates around three per cent children are lost during each Kumbh Mela and there are other challenges around the festival such as crowd control, finding places to house the pilgrims, risk of epidemics, stampedes and deaths.
Experts believe that several of the challenges faced at the event can be solved with the use of technology. Software solutions such as drones, security softwares, close circuit cameras and tracking devices are a few technologies that can help in managing the event better, experts said.
At a time when the Indian government has laid out technology-driven plans like 'Digital India' and smart city program, use of technology at the Kumbh Mela has got several groups excited.
Among others, MIT (Massachusetts Institute of Technology) Media Labs has launched an initiative called Kumbhathon, which is engaging with start-ups to develop technologies that could emerge with the 30 million people expected to attend the Kumbh Mela at Nashik this year.
MIT Lab's project is backed by Tata Sons Chairman Emeritus, Ratan Tata.