IT major Infosys on Friday announced a 3.1 per cent increase in profit to Rs 3,096 cr, besides announcing a 1:1 share bonus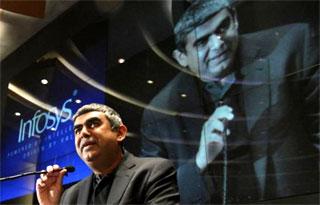 Vishal Sikka, the first non-promoter CEO of Infosys has announced his presence by giving the investor community more than what they expected. Not only did the company beat market expectations on almost all operating and financial fronts, but what was completely unexpected was a 1:1 bonus.
Though the revenue guidance has not been changed, a bonus announcement at this stage of the company's transition is a bold statement of intent. Sikka and his team are sending a message that they will be able to service the expanded equity in the near future.
Following are five key takeaways from Infosys' numbers:
Infosys has posted a better than expected revenues number, more importantly on the constant currency front. Against an expectation of a 2 per cent sequential growth, the company posted 3.1 per cent sequential growth to $2,201 million and a 6.5 per cent growth as compared to previous year. In rupee terms the company posted a 4.5 per cent growth at Rs 13,342 crore (Rs 133.42 billion).
On the operations front, there seems to be an improvement with administrative cost coming down by 9.9 per cent from the previous year, but this is mainly on account of Rs 219 crore (Rs 2.19 billion) provisioning due to visa related matter in the previous year. What is noteworthy is that Infosys's cost of sales has grown at a slower pace than its revenue on sequential basis and has actually come down on an annual basis. Cost of sales fell by 2.2 per cent as compared to previous year but increased by only 1.9 per cent sequentially, compared to a revenue growth of 4.5 per cent in rupee terms. This is on account of lower employee benefit cost which fell to Rs 7,522 crore (Rs 75.22 billion) in September 2014 quarter as compared to Rs 7,704 crore (Rs 77.04 billion) in the same quarter last year, the only positive of high attritions over the last few quarters.
Attrition is one front where Infosys still has a problem. The attrition rate has touched a new high of 20.1 per cent, the highest among top IT companies in the country. Attrition rate in the previous quarter was 19.5 per cent, up from 17.3 per cent in the corresponding period last fiscal. However, net addition of employees has shown a marked increase to 4,127 as compared to only 879 last year and 3,717 in the previous quarter. This is important as the company seems to be stacking up for future growth.

Better prospects can also been seen in the utilisation numbers which have increased to 82.3 per cent excluding trainees as compared to 80.1 per cent in the previous quarter and 77.5 per cent in the same quarter last year. Utilisation rates including trainees have also increased from 74.8 per cent in the previous quarter to 75.2 per cent in September 2014. This number stood at 73.1 per cent in September 2013.

The important number that matters is how Infosys views future growth. The company has maintained its guidance at 7-9 per cent in dollar revenue growth, which is much lower than Nasscom's growth rate of around 13-15 per cent. However, while analysts were expecting the company to meet the lower end of the guidance, the latest quarterly numbers show that the company will be on path to meet or even surpass the top end of the guidance number. Commenting on the results, Sikka said that he was confident of transforming Infosys into a next generation service company and getting back to consistent profitable growth. A 1:1 bonus issue after his interactions with clients and carrying out operational changes reflects that optimism.