Foundation partners with Code.org to do so, with Vandana Sikka joining latter's board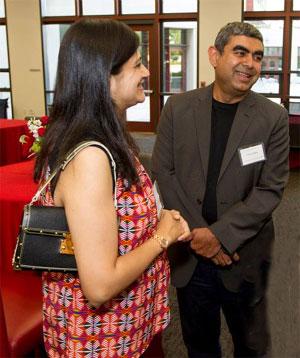 Infosys Foundation, the philanthropic arm of India's second largest information technology services company, said on Wednesday it was partnering Code.org for providing computer science education to school students in the US.
As part of this, Vandana Sikka (pictured), chairperson of Infosys Foundation USA, has joined the board of Code.org, which also has representatives of global companies such as Google, Amazon and Microsoft.
She is the wife of Vishal Sikka, managing director of Infosys since June last year, and had joined Infosys Foundation in December last year in this honourary role.
A postgraduate in computer science, she was earlier associated with several start-ups in Silicon Valley, in areas such as product design, development and management.
"She has joined Code.org board as an external independent nominee director like the other members in the board who are nominees of the foundations that have donated funds to the organisation.
"That means, her role will be to basically monitor that the funds are deployed in the right manner, and she will not have any role in the running of the organisation," a senior company official said.
Code.org is a not-for-profit body, founded in January 2013 by Hadi and Ali Partovi, twin brothers and having success records as technology professionals and entrepreneurs.
Its aim is to make computer programming accessible for everyone.
It is supported by philanthropic donations from foundations, major technology companies and their founders, such as Bill Gates (Microsoft) and Mark Zuckerberg (Facebook) who have put up around $10 million there.
Infosys Foundation said its partnership with Code.org was part of a larger mission to expand computer science education and training in America, particularly in underrepresented communities.
As a platinum-level sponsor of Code.org, it would provide financial support, apart from its resources and experience in computer science education.
"Our partnership with Code.org will accelerate our goal to give all children the skills they need to become creators, not just consumers, of technology," said Vandana Sikka. "Computing skills aren't just for software engineers anymore. They are becoming as foundational as science and language arts.
"As a parent, I feel strongly that every child should have the opportunity to learn these skills."
Infosys Foundation USA has also committed its support to Code.org's annual Hour of Code initiative, a global grassroots campaign that has introduced millions of students to computer science in about 180 countries.
Apart from Vandana Sikka, some of the other on the Code board are Maggie Johnson, director of education and university relations at Google; Brad Smith, general counsel at Microsoft; Jeff Wilke, senior vice-president of consumer business at Amazon, and Bobby Schnabel, dean, school of informatics and computing, Indiana University.
Infosys Foundation was established in 1996 by Infosys to support the underprivileged sections of society.
It is headed by Sudha Murty, wife of Infosys founder and former chairman N R Narayana Murthy.
Image: Vandana and Vishal Sikka share a light moment. Photograph: Kind courtesy, Institute for Computational & Mathematical Engineering at Stanford on Facebook.