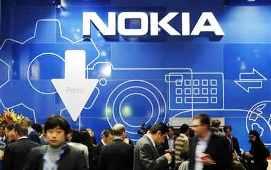 This comes at a time when the Indian government has started taking actions to clamp down on tax evasions to raise its tax revenues

Finnish handset maker Nokia became the centre of a tax scandal as a team of Indian Income-Tax officials on Tuesday raided its factory near Chennai on charges of alleged tax evasion worth Rs 3,000 crore (30 billion).

"Earlier today, tax officials visited Nokia's manufacturing unit in Chennai. Nokia is fully cooperating to ensure they get the necessary information to help in their inquiry," said a Nokia spokesperson.

This comes at a time when the Indian government has started taking action to clamp down on tax evasion to raise its tax revenues.

The government has earned Rs 3.7 lakh crore (Rs 3.7 trillion) as net tax receipts during April-November 2012, while total expenditure was about Rs 8.7 lakh crore (Rs 8.7 trillion).

During April-November, the fiscal deficit stood at Rs 4.13 lakh crore (Rs 4.13 trillion), or 80.4 per cent of the full year target, about five per cent lower than the corresponding period the previous year.

"We just started investigation and cannot reveal much on it.

"We have some information that they are not deducting tax on the payments that they are making to the parent company in Finland.

Based on that we have started this survey and if our expectation is correct, then it will result in about Rs 2,500-3,000 crore (Rs 25-30 billion) of tax collection for past seven years, 2005 onwards," a senior I-T official told Business Standard,
seeking anonymity.
An eight-member team of the tax evasion detection wing of the I-T Department started the search at the Nokia factory in Sriperumbdur, near Chennai, one of Nokia's biggest facilities.
It is expected to go on for some time and if it is found to be evading tax, the department would issue a notice to recover the amount, said the official.
In I-T parlance, 'search' and 'survey' are different. In a search operation, the business and residential premises are searched and the officials have the power to seize documents.
However, a survey is done only in the business premises.
"Nokia consistently fields a large and steady number of tax queries, audits and assessments.
"Nokia's commitment to being a good corporate citizen is firm and unwavering.
"We always observe applicable laws and rulings in the countries where we operate.
"This has been a core principle of our operations in India, where Nokia has been present since 1995," the spokesperson said.
Nokia tops the Indian handset market with more than 22 per cent share.
The government is also investigating the Indian unit of chocolate maker Cadbury over the tax issues, as reported in the media.