New irrigation technologies help farmers use far less water and be more productive, report Dilip Kumar Jha and Bibhu Ranjan Mishra.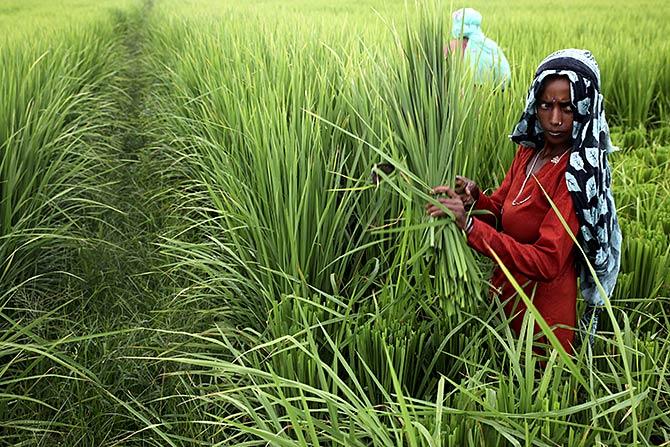 To a casual onlooker, J S Rana's five acres of agricultural farmland does not look very different from those of other farmers in Nandana village in Haryana's Karnal district.
Look closer, though, and you can spot telemetry devices along with panels mounted onto poles on the road adjoining his fields.
What you cannot see at all are the sensors buried in the farmland that help Rana to irrigate his land "smartly" based on data that reveals the moisture level in the soil.
Rana uses Jain Logic, an integrated automation solutions for the management of irrigation developed by Jain Irrigation.
Last year, Rana grew wheat on this field.
This year, with the help of the technology, he has gone for paddy cultivation, a notorious water guzzler he would normally have avoided.
At the core of Jain Logic are the soil moisture monitoring sensors which constantly monitor the movement of soil moisture levels within the root zone (of the crop).
The information is captured by the telemetric device or the controlling units located nearby.
These devices, which are equipped with mobile SIM cards, transmit the data to the backend servers for analysis.
Combining this data with general irrigation data and with rain forecasting data from external sources such as the met department, the team at the backend analyses it using machine-learning algorithms.
The result predicts precisely when Rana should irrigate his fields over the following seven days and by how much.
"This way, if there is erratic rainfall, or prolonged rain, the farmer can plan his irrigation schedule," said Anil Jain, managing director, Jain Irrigation.
Rana and his fellow farmers are cultivating export-grade Basmati rice this cropping season, using drip irrigation for the first time.
While drip irrigation for paddy has been used for some years now in several states, including Maharashtra and Andhra Pradesh, it's just beginning to pick up in Haryana and Punjab where ground water levels are fast depleting owing to over-exploitation.
While around 25 farmers in Karnal and other districts are trying out drip irrigation, Rana's land was selected for the sensor-based smart irrigation technology as part of a pilot project sponsored by the Swiss Agency for Development and Cooperation.
The Agency is encouraging farmers to produce rice with a low water and carbon footprint in order to be able to import to European countries.
It approached Jain Irrigation to track the moisture levels because it wanted to be sure that farmers were genuinely following drip irrigation rather than flood irrigation.
As a crop that devours water, rice can have a devastating impact on greenhouse gases.
Agricultural scientists are continuously working on technological innovations to grow rice with drip irrigation technology.
According to Jain, the technology also has health benefits.
Clean water storage in the field is prone to waterborne diseases including diarrhoea, malaria and typhoid.
"With this technology, water transportation from the resource to the root (of the plant) will reduce over-irrigation and therefore prevent these waterborne diseases," he said.
The sensors are not cheap, however, as they are imported.
A good quality soil moisture sensor costs around Rs 22,000-Rs 25,000.
Typically, one sensor is required for every acre of land to get accurate data.
In addition, there is the cost of installing the telemetry devices and the subscription charge.
Abhijit Joshi, senior vice-president, product development, said the company is trying to cut the cost.
"We are working with Japanese companies to bring down the cost of the soil moisture sensors and by next year we will be able to release this kind of product," he said.
The company's technology is also on trial at its own mango orchards in Jalgaon.
"It's a different kind of trial, what we call ultra high density plantation.
"Typically for mango cultivation, farmers follow a 30/30 feet spacing.
"That means in one acre of land, you get around 40 plants whereas we are now changing the spacing to something like two to three metres, which means one can get around 600 mango trees per acre," said Joshi.
However, conventional mango trees cannot be used.
In the trees used by the company, their growth is controlled through pruning and other techniques.
Joshi said the initial results of the trial show that the per-acre yield can go up by 30-40 per cent.
The company is also working with Coca Cola as part of the 'Unnati' project to promote these methods among mango farmers in south India, mostly Andhra Pradesh.
Jain Irrigation supplies mango pulps to Coca Cola for its Maaza drink.
Globally, Jain Irrigation has installed a few of these devices and technology at the International Rice Research Institute in the Philippines on a trial basis while it works with Japanese companies to promote this methodology in Japan as well.
Talks are also on to start a trial in the US.
"Data analytics and their conversion into a good harvest should be adopted in a responsible manner," said Vijay Sardana, an agricultural commodities' expert.
"The government has distributed 220 million soil health cards.
"But there is no system of providing recommendations about irrigation needs, weather forecasts or even the possibility of harvests on the sown seeds.
"Thus, agri-technologies should be linked with responsible means of modern farming."
Several other Indian and global drip irrigation companies are developing new technologies to address erratic and uneven rainfall and to manage ground water efficiently.
Rivulis Irrigation, an Israel-based company has devised Manna, a satellite-based software solution to help farmers reduce their costs through water conservation and control of under- and over-irrigation.
The software leverages three types of data from multi-spectral satellite imagery, hyper-local and virtual-station weather services and crop models (for crop phenology stages).
The Manna app provides crop and site-specific irrigation recommendations and historical, current and forecast weather conditions at the field level on a daily basis.
"Till now, there has not been a scientific approach towards irrigation on the right quantum of water and the right time for irrigation.
"Manna will help farmers forecast accurately their irrigation requirements, reduce losses, save costs and improve their yield," said Kaushal Jaiswal, managing director, Rivulis Irrigation.
Jaiswal says that Indian farmers using this software have increased their yields by more than 15-20 per cent.
Initially, Rivulis is focusing on Maharashtra, Karnataka, Gujarat, Uttar Pradesh and parts of Tamil Nadu before moving to other leading agrarian markets.
It will concentrate on cotton, sugarcane, pomegranate, grapes and tomatoes first.
In Mumbai, polymer company Emmbi Industries has come out with an innovative technology called 'Jalsanchay' under the brand name Avana.
With this technology, you install PEL bottle type water storages between the two layers of plastic thin walls above ground in a pond, for water storage.
This preserves water for one year.
"We have tied up with around 5,000 farmers in Maharashtra and have saved 200 billion litres of water so far, increasing farmers' income by an average 98.5 per cent," said Maithili Appalwar, CEO of Avana.
The government of Maharashtra has also tied up with Emmbi to expand its footprint across the state.
Emmbi is a partner in the government's Jalyukt Shivar Yojana project.
Major agrarian states such as Maharashtra, Tamil Nadu, Karnataka and Gujarat have been experiencing uneven distribution of the monsoon, resulting in huge crop damage and output losses, even though the average rainfall is normal.
While drought damaged both the kharif and rabi crops last year, incessant rain has resulted in floods in almost all these states this year.