The recognition that content - video in particular - will be the next big thing in the telecom wars requires no rocket science.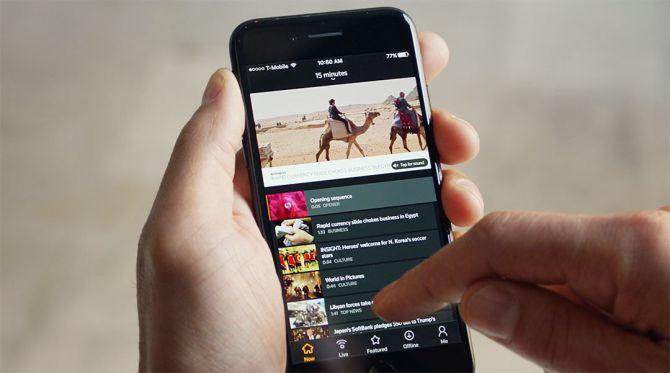 Recently, Airtel announced a tie-up with Amazon under which all its post-paid customers with a plan of over Rs 499 a month and above would get, at no extra cost, unlimited access to an Amazon Prime membership (worth Rs 999 for a year) that comes with Amazon Prime Video.
The move is expected to give Airtel a fillip in data usage, which has seen an upswing with average data consumption per subscriber going up by 56 per cent in the quarter ending September 2017 (quarter-on-quarter), most of it on account of the video.
The Amazon Prime deal is part of a bid to compete with the emerging juggernaut on the telecom data scene - Reliance Jio. Despite the strong growth in data usage, Airtel's average data usage per subscriber is just a third of Jio's.
With as much as 70 per cent of its data consumption coming from usage of video, Jio's subscribers are spending a staggering 1.8 billion hours consuming video every month.
The recognition that content - video in particular - will be the next big thing in the telecom wars requires no rocket science.
Yet the two big boys are following very different strategies to bulk up.
Reliance Industries has decided to follow a twin strategy - pick up stakes in or go for exclusive tie-ups with content companies so that it has some control over the final product.
Analysts say this could be a prudent way to keep costs under control, especially with big players like Netflix and Amazon splurging cash to buy expensive movie content or producing their own.
Exclusive or curated content to create a differentiator against competition is in its infancy and most of the content, whether live TV or music videos, is common to all players.
Currently, for instance, only five per cent of Jio's content is exclusive, including some TV channels, that the group owns.
But the telco has been able to drive video usage to its own over-the-top (OTT) applications that include Jio TV with about over 500 TV channels and Jio Movies, which are amongst the most viewed after YouTube.
Jio also has a 50 per cent stake in Viacom 18 (Viacom holds the rest) that runs the Colors channels and controls many thousand hours of content every year.
Viacom 18 group chief executive officer Sudhanshu Vats says they see three areas of synergy with Jio - Big data, content and technology.
"As we go forward with Voot (OTT digital channel), the big data available with us and the huge amount of data available with Jio about its consumers can be synergised, so that we can use it to curate and create relevant and better content for customers."
Apart from making exclusive content for Jio, Vats says Viacom can, for instance, develop its live events (a new area of business), in conjunction with Jio's virtual reality and 4K technology.
Similarly, Jio it has also recently taken a 25 per cent stake in Balaji Telefilms, one of the country's largest TV production house that also makes movies, for Rs 413 crore.
"As shareholders, they will have the advantage of knowing the slate of programming that the company will be producing for the year and can also ask them to curate exclusive content and have first rights over its movies," says a source close to Jio.
Jio has also signed up with ex-Disney boss Sidhharth Roy Kapur's film studio which will make finite and continuing series, long form and short form content across genres, which will shown for the first time on Jio.
Airtel, on the other hand, has decided to rely on being an aggregator of content from myriad sources.
Late last month it launched a new version of its Airtel TV app, which offered an easier user interface, 300 live TV channels and a bouquet of over 6,000 films free for its subscribers till June.
It is also leveraging its music app, Wynk, which has over 50 million subscribers, more than half of whom are Airtel subscribers.
The number of songs that are being streamed has more than doubled over the last one year.
The push for content has acquired a new urgency because of the new competitive paradigm in the telecom market.
For decades, mobile companies made money from voice calls, but Jio's entry changed the game.
The company offered unlimited voice calls free, and instead made revenues by selling a lot of data at rock bottom prices; the competition had no choice to follow suit.
Now to sustain the increasing usage of data, consumers need to be hooked to compelling content, preferably byte-heavy videos.
Besides, as telecom executives recognise, data is rapidly heading the voice way in becoming a commodity-like service, so the name of the winning game is value added content.
Good and diverse content will increase the stickiness of the customer. So creating a clear content-building strategy has to begin now.
Yet buying or curating exclusive content is not cheap, especially since most of it comes free and advertising revenue is limited. Telcos say this is necessary to build the market.
Even Hotstar, the Star TV India-run largest OTT platform, has only put premium content under the paywall, offering the rest free despite having over 100 million users, they point out.
Also, there is also tough competition for telcos to get exclusive content as many OTT players like Amazon Prime and Netflix are spending huge amounts to buy them out. For instance, Netflix has a war chest of over $300 million to buy out content in the country.
And the two international companies are tying up with producers in long-term deals to buy out digital rights for their forthcoming movies at huge price tags.
Some like Amazon are also producing original content, which doesn't come cheap either.
Which means that finding ways to monetise content will be the next big challenge for the telecom majors.
Photograph: Reuters