ITC Infotech looks to buy 'sub-$50 mn' firms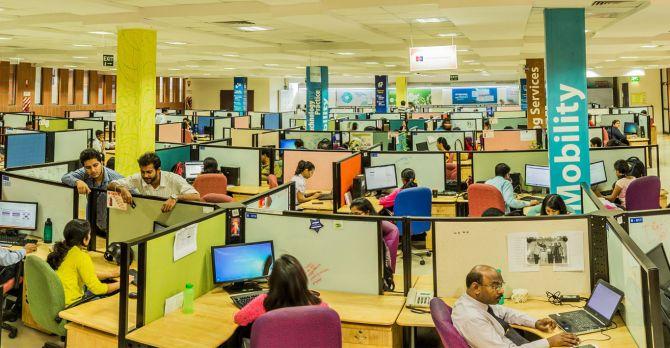 ITC Infotech, a wholly owned subsidiary of ITC Ltd, plans to acquire smaller companies worth about $50 million (Rs 332 crore) to boost its digital technology capabilities.
The mid-tier information technology (IT) services company is looking at firms that can solve problems of its clients and co-innovate in areas such as artificial intelligence, internet of things (IoT) and data engineering.
"We think the kind of companies that we will buy will be in the sub-$50 million range. Things that (can) give us unique capability, but do not hit profitability," said Sushma Rajagopalan, managing director and chief executive officer, ITC Infotech.
"We will put money in those areas where we would not have been able to compete if it (company) was built organically...I am not going to buy an old-world company," Rajagopalan said, adding the company had a "very clearly defined inorganic strategy".
The IT services industry is witnessing major disruption due to increasing demand for digital technology-based services, such as cloud and artificial intelligence, putting pricing pressure on traditional software maintenance services.
Rajagopalan says ITC Infotech has an upper hand in making faster transformation and co-innovating with small firms as the company "is not saddled with maintenance revenue".
The $270-million company might look at "multiple" small firms in the near-$50 million bracket.
"Our inorganic strategy will be different from investment strategy. We will look at the ones which give us revenue for today and tomorrow. Currently, I am looking at solving customer problems," said Rajagopalan.
ITC Infotech conducted the third edition of its technology innovation event iTech last week in Bengaluru.
This year, the company's "codeathon" made participants - a mix of start-ups and internal employees - solve complex business problems, and offered internship and job opportunities apart from cash prizes worth Rs 600,000.
Rajagopalan believes that platforms such as iTech are expected to drive the next level of innovation at IT services companies where start-up solutions can be "stitched together" as different components of a bigger solution across various segments.
For instance, ITC Infotech has developed four or five components or applications for an entire set of customer experience solution on its own and the rest three integrated from start-ups.
The company has been working with six start-ups who participated in past two seasons of iTech, and it will add at least five more from this season.
"We are giving the start-ups the stability they require, and taking the good things from them," she said.
For ITC's technology subsidiary, only investment is not the agenda.
"My thesis is if you can work with them strategically, embed them within the customers, use the kind of industry problem areas, give the start-ups the platform, then investment can come later," said Rajagopalan.
Keeping pace with change
The company is considering firms that can solve problems of its clients and co-innovate in areas such as artificial intelligence, internet of things and data engineering
The $270-million company might look at "multiple" small firms in the near-$50 million bracket
The IT services industry is witnessing major disruption due to increasing demand for digital technology-based services