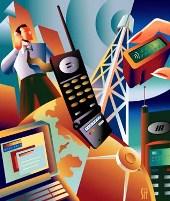 To intercept calls and data without going through telecom operators, the government is planning to spend Rs 500 crore (Rs 5 billion) to set up a centralised monitoring system.
This will enable security agencies to tap any call, real-time chat and data without help from the operators.
The Cabinet Committee on Economic Affairs recently approved the funding for CMS and a testing facility at Indian Insititute of Science, Bengaluru.
The department of telecommunications' design and technology wing, the Centre for Development of Telematics, will soon float a tender, according to a senior DoT official.
At present, DoT has to make arrangements with the operators for interception of any call or data.
Hence, the operators were aware of the numbers being tracked and there was possibility of this information being leaked, said the official.
"CMS is expected to be set up in 24-30 months," said the official.
The issue had come to the fore during the controversy over tapping of phone of corporate lobbyist Niira Radia.
The home ministry had asked the Income Tax department to tap Radia's phones.
Radia's conversations with various corporate executives and former telecom minister A Raja were leaked.
The first meeting on CMS was held last week. It was attended by officials from DoT and the National Technical Research Organisation, among others.
DoT is also looking at all encryption-based services, divided into 14 categories, to see if it is possible to provide an interception solution to security agencies.
The services include different kinds of mail and messaging services, network mobile email, VPN tunneling and various proprietary services.
A committee of officials from DoT, the department of information technology, service providers and security agencies has been set up for this.
Security agencies have raised concerns over highly-encrypted services such as BlackBerry.
The government has been demanding access to BlackBerry services. Its provider, Research in Motion, says it does not hold the key.
However, RIM gave a full solution for interception of its BlackBerry messenger service in January, averting a possible ban.