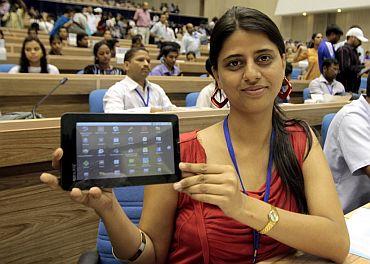 Datawind, maker of low-cost Aakash tablet PC has announced it will offer one-year free unlimited Internet on its Ubislate tablets sold through south Indian retail chain UniverCell.
The company for the first time has started selling its tablet PCs through a retail network.
"This relationship (partnership with UniverCell) significantly expands our distribution by adding a significant player from the retail channel to support our tablet sales," Datawind CEO Suneet Singh Tuli said in a statement.
Datawind has partnered state-run BSNL for provide free Internet service on its two models, UbiSlate 7Cz and UbiSlate 3G7.
"DataWind's technology and UniverCell's retail reach will help bring Internet penetration to the next stage. In fact it would be our endeavour to provide internet services uninterrupted to all the users," BSNL's Karnataka Circle Chief General Manager R K Mishra said.
Customers purchasing Datawind tablet through UniverCell will get access to free internet through India where BSNL has network.
"Tablet has been a focus area for us. The DataWind proposition of affordable tablets bundled with data is sure to be a super hit," UniverCell Telecommunications Founder Sathish Babu said.
The 12-month unlimited Internet browsing is limited to the UbiSurfer browser which comes pre-loaded on Ubislate tablets. If the UbiSurfer browser is not utilized, free or bundled access to other applications is limited to 250MB per cent month, the statement said.
Datawind Tablet avaialable online