Experts say data localisation and sharing is probably the single-biggest detriment that the draft policy talks about, the rest have no or minor repercussions on the players
Illustration: Uttam Ghosh/Rediff.com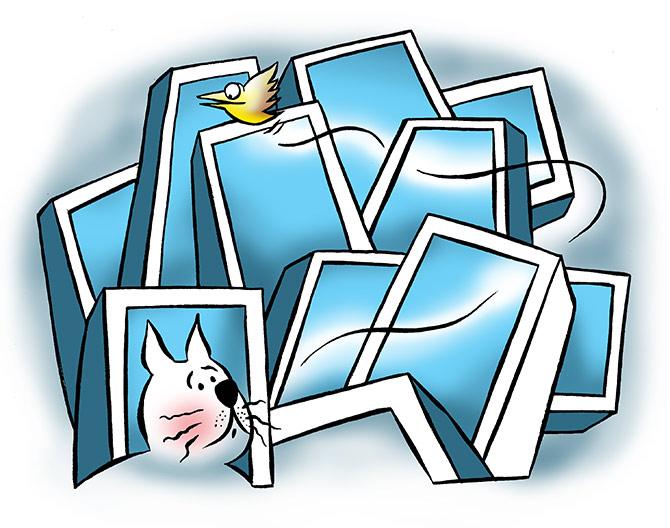 While trying to strike a balance between promoting homegrown players and keeping up the inflow of foreign capital into the online retail sector, India's draft national policy for e-commerce has proposed very little for incumbent players have invested billions of dollars to grow the market.
Experts believe the mandatory localisation of customer data and curbs on discounting as proposed in the draft policy could negatively impact the bigwigs.
The draft policy in its current form, they say, will not significantly alter the state of e-commerce in the country.
India's e-commerce industry is estimated to be worth $25 billion (approximately Rs 1.71 trillion) and could grow to $200 billion (Rs 13.7 trillion) by 2020.
The potential the market offers has drawn in giants such as Amazon, Walmart, Alibaba, SoftBank and Uber to invest millions of dollars to become dominant players in this space.
"While this proposed policy doesn't do them any good, it doesn't harm them too much as well," says Satish Meena, senior forecast analyst at Forrester Research.
"This policy has stopped short of focusing on protectionism and some areas where it does talk of change, aren't very important for these e-commerce players."
Data is where much of the IP of these new-age e-commerce companies lies, and having to open it up or share it will have significant impact on the way they do business.
However, even here the draft policy for e-commerce leaves this to the Srikrishna panel and the government which have been tasked with formulating a new law on data protection.
Experts say data localisation and sharing is probably the single-biggest detriment that the draft policy talks about, the rest have no or minor repercussions on the players.
While it's known that the e-commerce industry has been cash-hungry due to intense competition, a curb on discounting which offline counterparts say is hurting them, might not be easily implementable.
Meena of Forrester says though the curbs on discounting have been present for some years, this has not been able to solve the issue.
"I think the issue of discounting by e-commerce players has been overstated by offline players. In a market like groceries and food, which makes up half of India's retail spend, online players account for less than one per cent of the market.
"The share of online does get a little higher when you consider phones and large electronics, but that's still a very small share," says Devangshu Dutta, chief executive of Third Eyesight.
Dutta adds that this discounting is happening at such a small base that it's insignificant right now and will correct itself as the industry grows.
But by introducing more hurdles on this front, the government could effectively be slowing down yet another sector with unnecessary regulations.
Having a separate policy for a sector that makes up only two per cent of India's retail market while ignoring the rest is baffling, says Meena.
Rather than ensuring a level playing field between online and offline players, the draft e-commerce policy suggests changes that are hard to implement or make no impact, he adds.