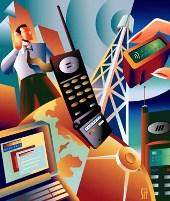 The number of phone subscribers in China, comprising fixed line and mobile phone users has reached 1.17 billion, a little less than country's population, information ministry said on Friday.
China's mobile users population rose by nearly 20 million in the first two months of 2011, taking the total number of mobile phone users to 878.83 million.
According to Chinese ministry of Industry and Information Technology, with this spurt the total number of phone subscribers including fixed line phone users has reached 1.17 billion, which is only slightly less compared to China's population of 1.34 billion.
At another level, the number of users of fixed-line services fell by 918,000 fixed-line telephone users in the January-February
period.
One of the reasons cited for the reduction in fixed line usage is that subscribers have to pay a monthly fee of around 18 yuan ($2.74) even if they make no phone calls, the official Xinhua news agency said.
China's third-generation mobile phone service subscribers expanded to 55.99 million by the end of February, according to MIIT.
The telecommunication industry's revenue rose 14 per cent as it generated 170.33 billion yuan ($25. 97 billion) in January-February this year.