Bharti Airtel is rolling out last-mile connectivity with a target of reaching over 20 mn addressable households in 90-100 cities in the next 3 years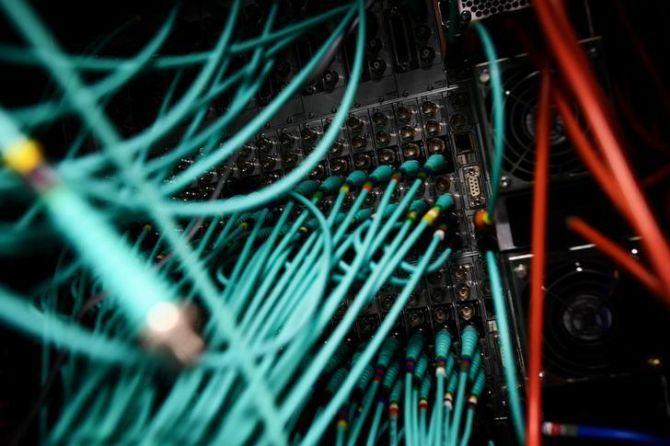 The next big battle for telecom companies will be fought over getting consumers to use fibre-to-the-home (FTTH), which offers broadband, voice as well as TV.
The country's largest telecom company, Bharti Airtel, is aggressively rolling out last-mile connectivity with an ambitious target of reaching over 20 million addressable households in 90-100 cities in the next three years.
That is equivalent to a third of the number of direct-to-home (DTH) households in the country.
Taking on Airtel will be Reliance Jio, which is expected to roll out commercial FTTH services in the next four months, initially covering 30 key cities and with an eventual aim of covering 100 cities, sources say.
Airtel has 2.5 million homes using its broadband services, most of which are provided on copper lines at speeds of 40-100 mbps.
But this year the company is putting in more fibre to expand its addressable market by 4 million households.
It intends to add 5 million households every subsequent year.
The company expects 30-50 per cent of the addressable market where it lays fibre till the last mile will become Airtel subscribers.
Airtel also hopes to leverage its DTH platform, something rival Jio does not have. It will use DTH, currently being provided to 15 million homes, to target consumers who only want TV at an average tariff of Rs 200 a month.
The FTTH platform will focus on consumers seeking specialised content like Netflix and Amazon Prime, other video-on-demand services, time shift video, apart from high-speed broadband and free voice calling.
Such subscribers will have to pay monthly tariffs beginning from Rs 900.
Both Airtel and Jio declined to comment on their FTTH plans.
Jio, which has trials on in 15 cities, is offering 100 GB capacity. The company is looking at roping in local cable operators in order to expand its reach faster.
"The margins cable operators make per subscriber are not more than Rs 30 a month. As long as we protect that, there is no reason why they should not join us," says a source aware of Jio's plans.
He points out that most multi-system operators may, however, not find it viable to upgrade their networks to fibre.
Sources expect Jio will replicate its strategy for mobile services, by offering rock bottom prices that will make the service attractive even to consumers with limited budgets.
TV users who want to use FTTH consume about 3-5 GB of data per day on average, which could rise to 10 GB for high-definition TV if they spend the same time as they do now in front their television sets.
Experts point out speeds of 10-15 Mbps are enough to stream movies.
Airtel has come out with a Rs 2,199 a month FTTH plan, which comes with 300 mbps speeds and 1,200 GB capacity.
This is bundled with Airtel's over-the-top apps which include live TV, movies and music, and 1,000 GB as bonus with a rollover plan in which unused data from the previous month is carried over.
Photograph: Dylan Martinez/Reuters