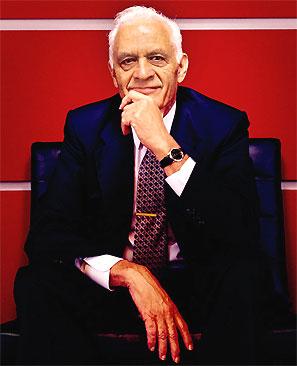 Amar Bose, the founder and chairman of the audio technology company Bose Corporation has died. He was 83.
Announcing his death company president Bob Maresca said, "He was more than our chairman. He was our teacher - always encouraging us, always believing that we could do great things, and that anything was possible," adding, "His vision is our history, and our future and Bose Corporation will forever be his company."
Bose received his bachelor's and master's degrees and doctorate from Massachusetts Institute of Technology, all in electrical engineering. He joined the MIT faculty in 1956 and continued till 2001.
In 2011, Bose gave MIT majority of his company's stocks in the form of "non-voting shares whose dividends are used to support education and research". MIT in a statement said, the university does not participate in management or governance of Bose Corporation.
Calling Bose "an extraordinarily gifted leader", MIT president L Rafael Reif in a statement said,"Dr Bose made quality mentoring and a joyful pursuit of excellence, ideas and possibilities the hallmark of his career in teaching, research and business."
Founded in 1964, and based in the Boston suburb of Framingham, Bose Corporation is known for making radios and noise-cancelling headphones.
To be able to sustain long-term research without feeling the heat of quarterly results, Bose refused to go public.
In an interview to Popular Science magazine, he said," I would have been fired a hundred times at a company run by MBAs. But I never went into business to make money. I went into business so that I could do interesting things that hadn't been done before."
Though expensive, people rave about Bose's high-quality audio systems and speakers. Since 1982, even auto majors including Mercedes and Porsche have been installing Bose audio systems in their vehicles.
In a tribute to Bose, Ratan Tata tweeted, "My good friend Dr Amar Bose passed away today. He was respected for his sharp mind and for his humility. The world has lost a great leader."
An avid badminton player and swimmer, Bose, who was born in Philadelphia, is survived by his son Vanu and daughter Maya (with ex-wife Prema), and his second wife, Ursula, and one grandchild.
Photograph: Courtesy, Bose Corporation