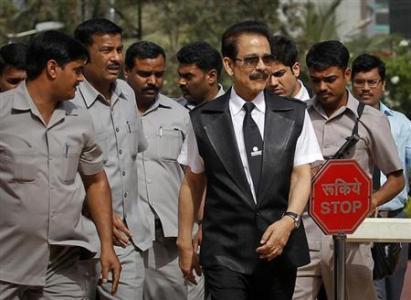 At the annaprashan ceremony of his grandchild earlier this year, there was absolutely no evidence Sahara group chief Subrata Roy was under any pressure.

The ceremony was attended not just by every politician of stature one can think of (barring Mayawati), but also a galaxy of bureaucrats (serving and retired) and a large number of Bollywood stars, including Abhishek Bachchan (putting to rest rumours of a fallout between Amitabh Bachchan and the Sahara Parivar).

However, as a bureaucrat who attended the ceremony observed sardonically, this was par for the course.

"For many present, the relationship with Sahara is like the bhajan by Raidas — prabhuji, tum chandan hum paani — so deeply are their financial fortunes intermingled with those of the Sahara group."

That the Sahara group's ventures have been responsible for the good fortune of many is true.

A bureaucrat who was invited to dinner by Subrata Roy at his sprawling Noida guest house in the 90s recalls that then too Roy had come a long way from the time he started business on a scooter in Gorakhpur, collecting small financial contributions from ordinary people but never failing to return their money.

His first venture was his newspaper, an idea ahead of its time in those days.

Roy struck a friendship with the then chief minister of Uttar Pradesh, Vir Bahadur Singh, and his business advanced by leaps and bounds.

"I had dinner with him (Roy) around this time. I still remember at the dinner table, there was a lady, clearly a professional manager of money, because she kept getting calls and kept telling 'buy this' and 'sell that'. Whatever money Sahara collected as deposits was invested wisely and on professional advice," the bureaucrat said.

Sahara's fortunes began dipping when Kalyan Singh took over as UP chief minister in 1997.

One day, bureaucrats in the chief minister's office got a frantic call from Subrata Roy -the
Lucknow Development Authority had begun demolishing a big township being built by the group in Gomtinagar, Lucknow.
Upon enquiry, it transpired no notice of the demolition had been given, and it was stopped. Some probing elicited this: Kalyan Singh had no time for Subrata Roy.
However, the then state urban development minister Lalji Tandon, the BJP's face in Lucknow and manager of the constituency from which Atal Behari Vajpayee had been elected, was a Sahara Parivar sympathiser.
Later, there was talk of moving the corporate headquarters from Lucknow to Mumbai. One connection led to another and Aamby Valley was created.
When the Kalyan Singh-Mayawati transfer-of-power arrangement tottered in the state, a helicopter owned by the Sahara group came to BJP's rescue - Uttar Pradesh leader Rajnath Singh ferried ministers and members of legislative assembly to Delhi.
The Sahara group's good fortunes were restored during the chief ministership of Ram Prakash Gupta and later, in 2003, when the Samajwadi Party came to power and, with Amar Singh as adviser, embarked on industrialisation across the state. The development of townships was now officially backed by the state government.
By now, the Sahara group had expanded out of Uttar Pradesh and there was talk of moving the corporate headquarters from Lucknow to Mumbai. One connection led to another and Aamby Valley was created.
A Reserve Bank of India stipulation that 200 per cent of the value of an Indian asset could be converted into foreign exchange was leveraged by the group to buy property abroad. Many who had money they couldn't account for saw this as an investment opportunity.
Little wonder then, that the Sahara group has friends in all parties and supporters in all governments.