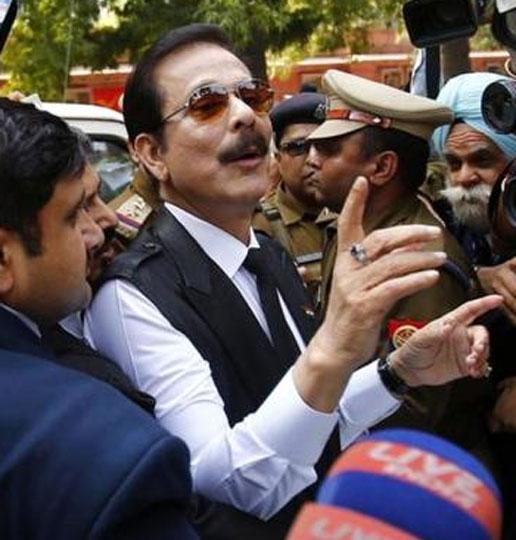 Jailed chief of Sahara conglomerate Subrata Roy has once again been provided with an AC conference room with services like Internet and video-conferencing at the Tihar prison as per a Supreme court order to complete negotiations for raising funds for his bail.
This comes after a similar 57-day stay at the special facility till September 30 by Roy on the apex court's direction. Sahara group had then paid Rs 31 lakh to Tihar jail as charges for the facility. Roy has now been allowed to use of facility till February 20.
Sources in Tihar jail said Roy along with two of Sahara's directors Ashok Roy Choudhary and Ravi Shankar Dubey, who were lodged in Tihar, have been transferred back to the conference room from the barracks.
66-year-old Roy has been lodged in Tihar jail for over nine months for non-refund of over Rs 20,000 crore (Rs 200 billion) with interest to depositors.
On January 9, the apex court had extended its August 1 order for conference facility for him in Tihar jail to raise the funds. The court had asked 65-year-old Roy to pay Rs 10,000 crore (Rs 100 billion) to get bail, out of which Rs 5,000 crore (Rs 50 billion) should be paid in cash and rest in bank guarantee.
"We received the order from the court for restoration of the facilities given to Sahara chief earlier by 6 p.m. on Monday and the same was implemented by the jail administration. Roy has been allowed the facilities till February 20," they said.
Roy's stenographer, secretarial assistants and one technical assistant have been allowed to help him during the permitted time slot from 6 a.m. to 8 p.m on the working days.
All the meetings that will be held at the conference room will be under surveillance of CCTV cameras. Roy will be using the fully air-conditioned room with services like Wi-Fi and video-conferencing, the source said.
Roy has also been allowed two laptops, two desktops, landline phones and one mobile phone, they said. As per the court order, Roy will stay in the "special jail" till February 20.
Earlier, Roy stayed in the special facility for a total period of 57 days with his two directors Ashok Roy Choudhary and Ravi Shankar Dubey from August 5 to September 30.
Sahara group had paid Rs 31 lakh to Tihar jail authorities as charges for stay of its chief in the air-conditioned facility and using services like phone, Internet and video conferencing. He has been in the jail since March 4, 2014.