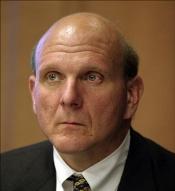 Microsoft chief Steve Ballmer has sold shares worth $1.34 billion in the software giant this month, offloading the company's shares for the first time in seven years.
Ballmer, who has been the CEO of Microsoft since 2000, said the share sale was a "personal financial matter" and a part of diversification of investments and tax planning. As many as 49.35 million shares worth about $1.34 billion were offloaded by Ballmer over three days, according to a recent regulatory filing.
These shares were sold on November 3, 4 and 5. This is the first stock sale made by the CEO in seven years, Microsoft said in a separate statement.
Prior to the sale, he had around 408 million shares in the software major. "Even though this (share sale) is a personal financial matter, I want to be clear about this to avoid any confusion," Ballmer said.
"I am excited about our new products and the potential for our technology to change people's lives, and I remain fully committed to Microsoft and its success," he added. According to Microsoft, Ballmer plans to offload up to 75 million shares in the company by the end of 2010.
On November 3 and 4, Ballmer sold over 35 million, valued at more than $983 million. He offloaded over 13 million shares to the tune of $351 million on November 5, as per the filing.