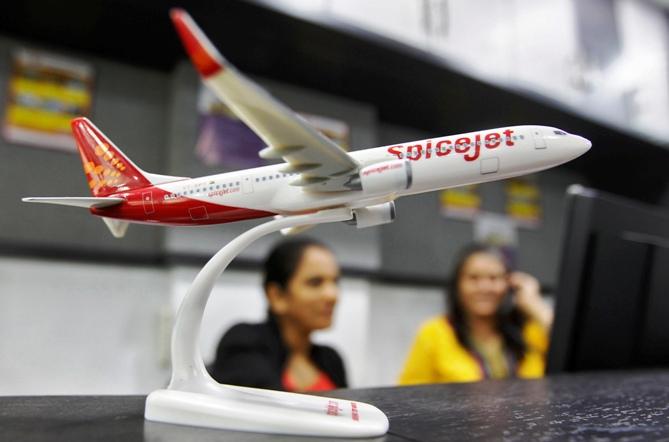 SpiceJet chief operating officer Sanjiv Kapoor has said his airline cannot be compared to Kingfisher Airlines because it is paying salaries to employees on time, has not grounded its fleet and has a much smaller overdue payment problem, being addressed by the management.
Over recent weeks, the Sun Group-owned no-frills brand came under a scanner following the Directorate General of Civil Aviation's ordering of an engineering audit and over delays in handing out Tax Deducted at Source certificates to staffers. This gave rise to fear that the airline was in a serious problem.
The airline reported a loss over Rs 1,000 crore (Rs 10 billion) in 2013-14, five times higher than its earlier year's loss. Its net worth has eroded and the management has been in discussion with various investors and airlines to raise capital.
Kapoor, however, insists it is incorrect to compare SpiceJet with grounded Kingfisher and denied media reports that the airline had approached its founder and former director, Ajay Singh, for investment.
"We are publicly listed and everyone knows we are making a loss and that our balance sheet needs to be healthy. All we are doing is to compete fairly, do honest business and deliver a good product,'' said Kapoor.
Under his helm, the airline launched a spree of discount offers to fill flights and a vigorous marketing and branding campaign.
Kapoor says his measures show results and the airline is focused on improving its revenue by tapping corporate business with a new product, and will not do fleet addition this year.
"In March, our loads were 68.9 and we increased it to over 81 per cent in June. Our market share has increased from 17.8 to 19 per cent in the same period, despite reduction in our capacity. We designed our route network from scratch and withdrew from routes which had a flying time of over four hours,'' he says. "We are not blindly discounting fares and we will continue our market stimulation drives. World over, all low-cost airlines do it.''
However, he refused to comment on the airline's cash crunch.
The airline pulled out some flights to Riyadh, Guangzhou and Bangkok. It is reintroducing two night flights on Kolkata-Bangkok and Kolkata-Dhaka and will add new flights to Dubai.
Occupancy in May-June rose to 80-81 per cent, a peak season for travel. Kapoor blames over-capacity in the market. "We want to moderate growth,'' he said, adding that the airline was open to returning four of its older Boeing 737s to lessors before conclusion of the lease period. Currently, it has 37 Boeing 737s and 15 Bombardier Q400s. The staff count is down by 300; it is not hiring, except for operational requirement. "There are no mass layoffs,'' he said.
Kapoor also said the Q400 performance was improving and the airline has been able to control its maintenance expense with Bombardier deputing technicians at Hyderabad. It had to send planes to Europe for major checks, resulting in long withdrawal from operations.
"We are working on the revenue front and to improve the passenger mix and attract more business travellers. We will continue the market stimulation tactics to fill the back end of planes and charge a premium for the front five rows which have larger leg room,'' he said. On costs, it is reworking various vendor contracts to cut maintenance expenses.