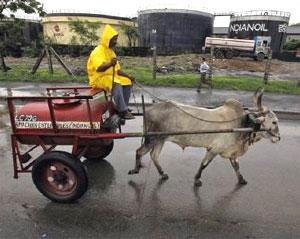 Now that the National Democratic Alliance government is taking over, I would hope that a more transparent and merit-based selection process would be held for IOC's top post, says Sudhir Bisht.
The United Progressive Alliance (UPA) government announced many decisions during the fag end of its tenure.
There were announcements which the press said, shouldn't have been made. Like the case of announcement of the new army chief, that the outgoing government announced almost with so much alacrity, in spite of so much opposition to it.
Mercifully, there is one decision which the government didn't announce, that of appointing B Ashok as the next chairman of Indian Oil Corporation.
Now I have nothing against B Ashok. Most IOCians I met speak highly about him. Some say that he is one of the most intelligent officers of the company while the others speak eloquently about his sense of strategy and commitment to the retail business that he currently stewards.
He is also spoken about as a man of unimpeachable integrity. My objection is to the selection process undertaken by the selection board, in this case the Public Enterprises Selection Board (PSEB).
Indian Oil Corporation – The biggest company in India
But before I jump the gun, let me say a few words about Indian Oil Corporation.
IOC is the largest company by sales in India. And when I say largest, I include all the companies that operate in India, including the Indian private sector companies and the subsidiaries or affiliates of the giant multinational companies that straddle across industries as diverse as FMCG, white goods, oil & gas, telecom and electricity and other major utilities. IOC has a staggering sales turnover of Rs 4,14, 909 crore (Rs 4.14 trillion) for the financial year 2013-14.
In dollar terms, IOC's sales revenue stands at a little over $69 billion. Compared to the ExxonMobil, the biggest oil & gas company in the world, IOC is about 17 per cent of the size of ExxonMobil.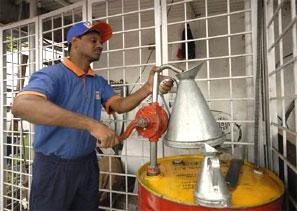 The key difference here is that while Exxon Mobil operates both upstream, midstream and downstream businesses, IOC is mainly a midstream and downstream company. Another point that merits attention is that while ExxonMobil is a worldwide company, IOC operates mainly in India. This makes IOC a giant among global companies given the small area of its geographical operations.
As per the Fortune Global 500 list, IOC is the world's 88th largest corporation in the world. It controls about 50 per cent of the fuel market in the country and has a slightly over 1/3rd of the total refining capacity of our country.
IOC's refining capacity is close to 66 million tonnes per annum and it owns 10 of India's 22 refineries. IOC's share is listed at BSE at Rs 343 and its market cap is Rs 83,413 crore (Rs 834.13 billion).
In contrast Bharat Petroleum's share is listed at Rs 560 and its market cap is Rs 40,515 crore (Rs 405.15 billion). Hindustan Petroleum's market cap is Rs 14,388 crore (Rs 143.88 billion). Among the private sector companies Reliance Petroleum's market capitalisation stands at Rs 58,882 crore (Rs 588.82 billion).
The above clearly shows that IOC is one of the most important petroleum companies in India. It employs around 35,000 employees and it has over 35,000 sales and marketing touch points.
IOC's chairman's selection process: Age is paramount
Now that I have made my initial submission that IOC is one of the most prized companies in India let me turn my attention to the way Public Enterprises Selection Board (PSEB) concluded the selection process of the chairman of IOC.
The entire selection process was shrouded in mediocrity and mystery. The position of IOC's chairman should have attracted the best and the brightest minds but I learnt that the position was open only for central public sector executives and government officers. This smacks of narrow-mindedness and inflexibility.
The selection criteria hinged upon age (less than 58 years for internal candidates and not more than 57 years for others). I dug in deeper and I found out that none of the existing functional directors of IOC were eligible to apply since they didn't have age on their side.
This I find most agonisingly stupid. The candidate who was picked by PSEB for recommendation to the government is 56-years-old. This means that if he is eventually appointed, he would be 61 at the time of his retirement.
If a man can function as chairman when he is 61, then why can't a man function as chairman when he is 62 or 63 years of age. My idea is not to say that old and experienced should be preferred over the young ones.
In fact, young candidates have to be encouraged but to say that a candidate who is 56 years of age is young and a candidate who is 58 years of age is old is ridiculous.
The age criterion ruled out 7 talented existing directors from the race to the top position. Is this not an utter waste of human resource?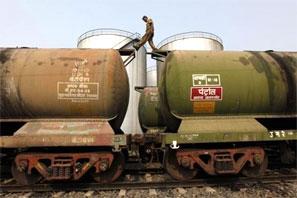 If Ashok is eventually selected, he would be the first person who would become the company's chairman without being on the board of IOC or any other similar organisation.
And he wouldn't have achieved it because he is singularly outstanding but just because the other meritorious candidates were a year or two older than him.
And is Ashok so brilliant? May be he is. I don't know that but all I know that he has just the experience of being in the marketing department for over many, many years.
He doesn't have any other experience in any capacity in the refining division or in upstream division. And I must state here that most IOCians lack his cross vertical experience.
Ashok is a mechanical engineer from a reputed institute from Chennai and he later studied Management at MDI, Gurgaon. So there is nothing exceptional about Ashok except that he happens to be 2-3 years younger than his seniors and his batch mates.
I tried to gather information on the exact number of candidates amongst the central public sector executives and from the government officers who were eligible to apply.
My own calculation is that at least more than 200 PSU officers from the energy sector (which isn't just Oil & Gas by the way) would have been eligible to apply if only the age criterion would have been slightly relaxed.
I submitted an RTI on 11th November 2013 to Department of Personnel and Training (DOPT) at New Delhi wherein I raised several questions. I received a response on 17th December and I reproduce the response that I received in a tabular form as under:
SLN No.

Query raised by Sudhir Bisht on 8th Nov 2013 and received by PSEB on 11th Nov 2013

Reply from Dy Secretary and CPIOdated 17th Dec 2013

1

What is the age criterion for selection for IOC Chairman?

The copy of Job description having all information consists of 3 pages

Note: I was asked to deposit a small fees for seeking this information. I deposited the fees and the I was given clear answers for all except for the query at Serial No (3)

2

What is the Educational and work experience criteria for the position? In case the same is available on any website, kindly provide the webpage address

3

What is the pay scale of IOC's Chairman?

4

Are all the Executive Directors of Schedule 'A' PSUs who fail in the age criterion, eligible to apply

5

Total number of written/ online applications received by PSEB for the position of Chairman, IOC

The competent authority i.e. ACC has not taken a final decision on Final recommendation for selection to the post of Chairman. Since the selection process is not complete, the information sought is exempted from disclosure under Section 8(1)(i) of the RTI Act

6

Did the PSEB make any special efforts to encourage all eligible candidates from all PSUs to apply for the position of Chairman, IOC

These posts are advertised in national newspapers besides being circulated to all Ministries/ CPSEs and also is displayed in vacancy on PSEB website

7

Is the process of application online?

No

8

Did PSEB receive any application from the serving senior IAS officer

As stated at Sl No. 5

9

Did PSEB seek application from private sector professionals

NO

10

Name of the selectors who screened the initial applications

As stated at Sl No. 5

11

How many applications received were rejected

As stated at Sl No. 5

12

Were all the eligible candidates who applied for the position called for interview?

As stated at Sl No. 5

13

There were 2 IOC EDs who were called for the interview but who didn't appear for the interview. What are their names and did they give any reason for not appearing for the interview? Will these two EDs have to explain the reason for withdrawing at the last minute.

As stated at Sl No. 5

14

What was the exact reason given by the GAIL's Chairman for not appearing in the final interview? He had similarly not appeared for the final interview of ONGC. Will this have any impact upon his chances for further interviews of ONGC or IOC?

PSEB does not seek information/ regarding non-appearance in interview

15

Did any PSEB member conduct a formal meeting with the GAIL Chairman and record his reasons for NOT appearing in final interviews of ONGC and IOC?

PSEB does not seek information/ reason regarding non-appearance in interview
Based upon the information I received from the DOPT, it is clear that my main questions remained unanswered. The most important questions that I raised pertained to the number of applications received, the number of candidates interviewed and why did certain shortlisted candidates fail to attend the interview.
It is a bit unfair for DOPT to say that until the ACC doesn't take a final decision, my legitimate public-interest questions will not be answered.
There have been newspaper reports that 11 candidates were invited for the final selection interview but only six were interviewed by the PSEB. We are entitled to know what happened to the five candidates who didn't attend the interview. Why did they not attend? Were there a further pruning of the list or the candidates just didn't attend for any other reasons?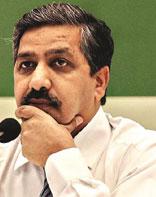 B C Tripathi, the CMD of GAIL was among the final 11 who were shortlisted but even though he was rated as the one with the most outstanding CV, he opted out of the race.
It may be mentioned here that Mr Tripathi has similarly opted out of the race to be ONGC's Chairman before this incident. A few days after he opted out from the IOC race, he was re-appointed as CMD of GAIL India Limited.
Was this a bargain between Tripathi and the government and was it good for him? That's not possible since the chairman of IOC is a far more prestigious position than the position of GAIL's CMD.
Now that the National Democratic Alliance (NDA) government is taking over, I would hope that a more transparent and merit-based selection process would be held for IOC's top post.
For a company as big and as prestigious as Indian Oil, one can't be awarded the top position simply because other meritorious men and women were born a year or two ahead of the chosen one.
I also hope that private sector candidates too would be encouraged to apply for the position. IOC may be 70 per cent owned by the government but the 30 per cent stake by the non-government owners can't be ignored.
I sincerely believe that the position would be re-advertised, best talent would be encouraged to apply and the best man would be at the helm of affairs of IOC.
It could be B Ashok again and best wishes to him. In fact his taking over as IOC's chairman right now would be like a top player getting a walkover in the final match.
Let there be an open and competitive selection process and may the best person win.
---

Sudhir Bisht is an author and freelance columnist. He is also the CEO of CLAIRVOYANT.
Reach him at sudhir_bisht@rediffmail.com