Wolfgang Schauble has done right by the Euro zone, but the Greeks believe that doesn't necessarily mean he has done right by them.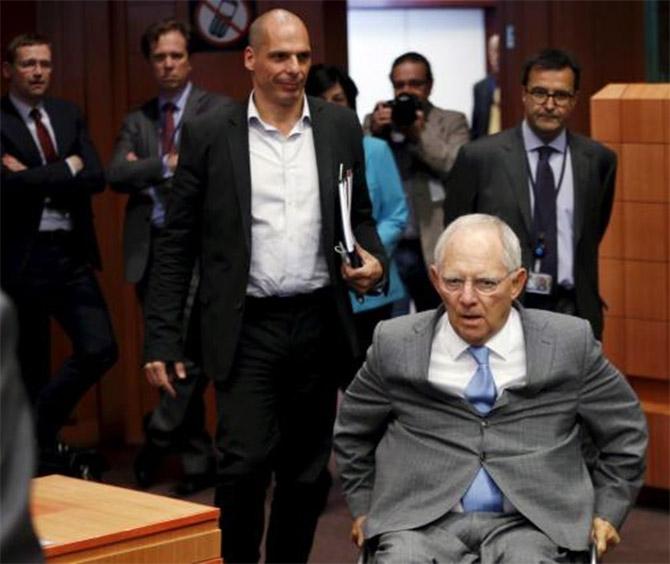 Image: German Finance Minister Wolfgang Schaeuble (right) and his Greek counterpart Yanis Varoufakis. Photograph: Francois Lenoir/Reuters
A Greek publication recently carried a photo of a vampire with this caption: 'For five years now he has been sucking your blood.'
The reference was not to any vampire, but to one of the key persons in the tough Grexit negotiations, the wheel-chair bound German Finance Minister Wolfgang Schauble.
Even as leaders proclaimed that a deal has been sealed with sinking Greece, the offer by Euro zone leaders has triggered a social media attack on Germany and its vociferous finance minister.
'Tsipras finally accepted a compromise on German-led demands for the sequestration of Greek state assets to be sold off to pay down debt,' according to Reuters.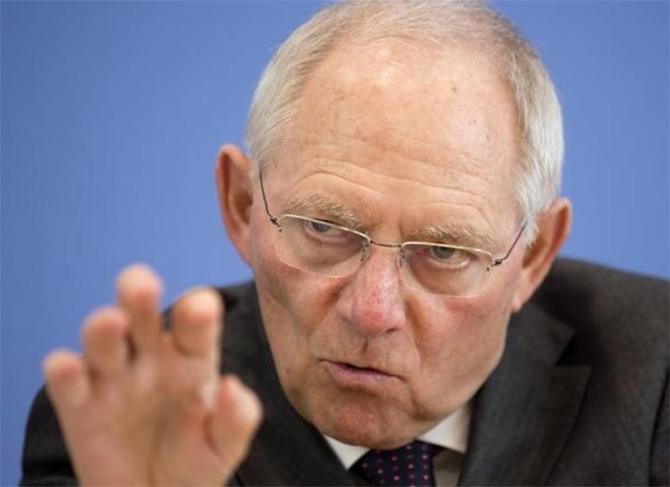 Image: Wolfgang Schauble played a key role on behalf of the Euro zone to strike a deal with Greece. Photograph: Reuters
Paralysed but always in 'form'
An attempt to assassinate him in 1990 left Wolfgang Schauble paralysed but it did not stop his determination to emerge as one of the strongest ministers in Angela Merkel's government.

He played a key role on behalf of the Euro zone to clinch a deal with Greece on Monday to keep debt-ridden Greece in the Euro zone.

Schauble and Yanis Varoufakis, the former Greek finance minister, had engaged in a war of words earlier.

While Varoufakis accused Schauble of planning to force Greece out of the Euro, Schauble called the Greeks untrustworthy.
However, the stringent terms imposed by international lenders led by Germany may put more pressure on Greece's leftist Prime Minister Alexis Tsipras, leading to an uproar in Greece.

Meanwhile, European Commission President Jean-Claude Juncker said, 'In this compromise, there are no winners and no losers. I don't think the Greek people have been humiliated, nor that the other Europeans have lost face. It is a typical European arrangement.'

If Greece meets the conditions, the German parliament would meet on Thursday to mandate Merkel and Schauble to open the talks on a new loan, said a Reuters report.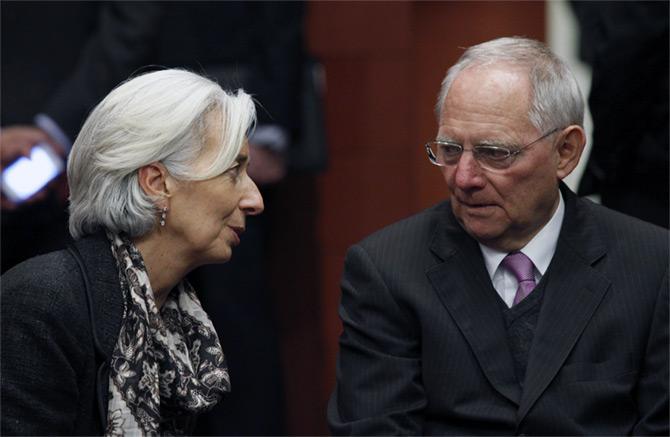 Image: German Finance Minister Wolfgang Schaeuble with head of the International Monetary Fund, Christine Lagarde. Photograph: Reuters
A controversial newsmaker
Schauble's hard line stance against Southern European countries during the Euro zone crisis is well known.

In 2012, Schauble rejected calls from the chairperson of the International Monetary Fund, Christine Lagarde, to give Greece more time to cut expenses in a bid to curb its high deficit.
President Karolos Papoulias of Greece had then accused Schauble of insulting his nation.

He was not the first to do so. In October 2013, Schauble was accused by the former Portuguese prime minister, Jose Socrates, of portraying Portugal in a bad light in the media during the Euro zone crisis prior to the Portuguese bailout. According to media reports, Socrates called him a 'sly minister of finance'.

Questions have also been raised about Schauble's integrity. The Eurogroup's proposal to take €50 billion of Greek State assets as security to ensure reforms were supposed to be monitored by the Luxemburg Institution for Growth.

It turned out that institution was a wholly-owned subsidiary of the German KfW, where Schauble serves as chair of the board of directors.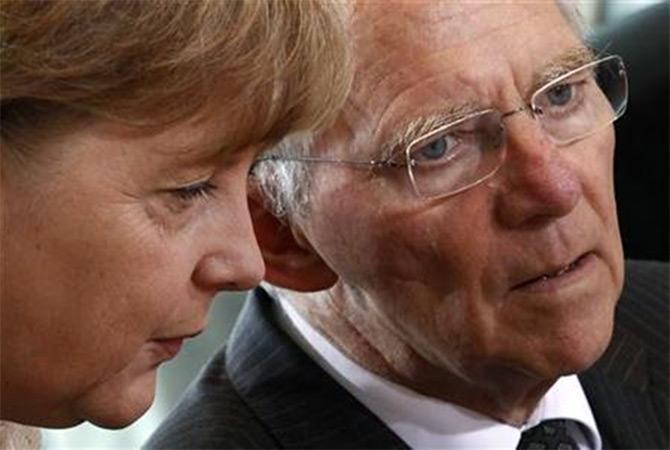 Image: German Chancellor Angela Merkel (left) with Schauble. Photograph: Fabrizio Bensch/Reuters
Master of austerity
Schauble has a reputation for exercising good control over expenditure. He has repeatedly turned down appeals from government supporters for popular tax-cutting measures.
A leading supporter of austerity during the Euro zone crisis, Schauble had last year pushed through a national budget of 299 billion euros that allowed Germany to not take on any new debt for the first time since 1969.

Germany also became a founding member of the Asian Infrastructure Investment Bank on Schauble's initiative.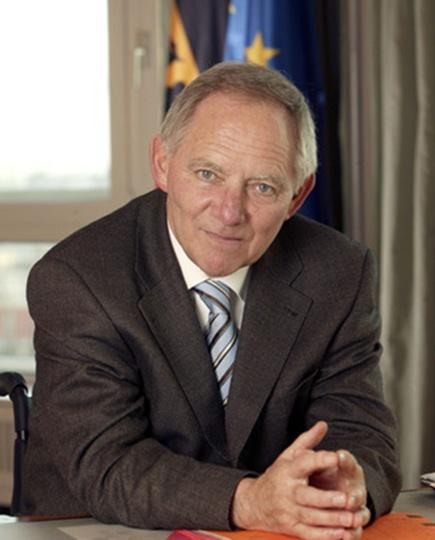 Image: Schauble has been a member of the Bundestag since 1972. Photograph: Schauble/Twitter
A strong political career
The son of a tax finance advisor, Schauble studied law and economics at the University of Freiburg and the University of Hamburg. He also has a doctorate in law.

He started off his career as a senior administration officer in the Freiburg tax office. He then started practising as a lawyer in the district court of Offenburg.
In 1961, he quit law to join the youth wing of the Christian Democratic Union. Schauble has been a member of the Bundestag since 1972.
The longest-serving member of German parliament, at 67 he was also the oldest member of the cabinet in 2009.
Even at 73, Schauble continues to hog headlines in the international media and social networks for his outspoken nature and brazen attacks on Greece.