While the government claims big successes in agriculture, rural roads & investment scenario, detractors say the rosy numbers hide a lot.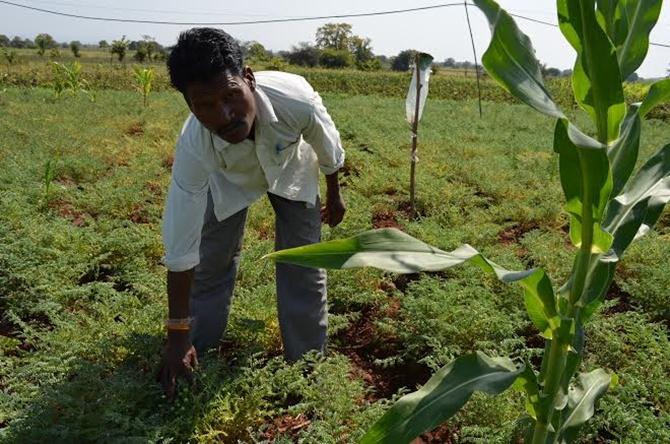 Growing table-grapes was not a profitable business for a group of 18 farmers in Titri, a small village in Ratlam district, 300 km west of Bhopal, till 2005.
Following the advice of friends in nearby villages, which are located in Maharashtra, they started growing wine-grapes and started lobbying for a wine policy.
Their efforts succeeded and the state government came up with one in 2006, but didn't allow retailing.
Yet, it was a tough time for the small group. They got Rs 1.3 crore loan from banks to start a winery, without technical support.
They brewed the first batch of 25,000 litres, in 2007, but were able to sell only 1,000 litres.
"We had two options: either sell our entire property and winery to free ourselves from debt, or pursue government authorities to allow retailing of wine. We chose the latter," says Amrit Patidar, one of the members of the group.
With a few ifs and buts, the state government allowed wine retailing in 2008.
"Now, we have 14 retail stores across the state," he says. "We will achieve break-even in 2018 and hope to be free from all debts."
The area of wine-quality grape is now 80 acres in Titri, from 10-12 acres in 2005.
To maintain quality, one of the younger members, Jitendra Patidar, got a degree in wine technology from Pune.
"He's now engaged in exploring the export potential," says Motilal Patidar, a senior member.
The group gave Madhya Pradesh its first wine brand, Amby.
This is just one of the many success stories after the state government took on the task of making agriculture a profitable business.
The efforts have paid off somewhat, considering the double-digit annual growth rate for the past five years.
The government says it was a remarkable 25 per cent in 2015-16 and points to 3.6 million hectares of land under irrigation cover and a 30 per cent seed replacement ratio, besides introduction of new farming methods.
"We have a strategy on adoption of modern techniques, go for crop rotation and cultivate better yields," says Rajesh Rajora, principal secretary, department of agriculture.
Governor Ram Naresh Yadav told the Budget session of the legislative Assembly that state gross domestic product (GDP) growth in 2014-15 was 10.2 per cent, the highest in the country.
The contribution of agriculture and animal husbandry was 21.5 per cent in the state GDP in 2009-10; it was 28.6 per cent in 2014-15.
A slew of schemes like short-term loans at low interest rates, separate power feeders for agriculture and enhanced insurance cover to farmers have been introduced.
State government officials also take great pride in the massive investment in rural roads which has eased farmers' access to markets and also exposing them to bigger markets.
"We have 125,000 km of roads. They are either motorable or under construction and repair," says Pramod Agrawal, principal secretary, public works department (PWD).
The recent addition to national highways (NH) was 2,611 km; another 2,383 km has got in-principle sanction, taking the total NH length to 10,000 km. An equal length of state highways is in good shape.
"According to Vision Document 2018, we are focusing on improving the quality of roads. New ones, particularly major district roads, will be made of concrete and require negligible maintenance, with a 30-year life," says a senior PWD official.
A total of 18,792 km of major district roads have been divided into five categories, depending on their state.
"A total of Rs 12,000-15,000 crore is needed to make this length in good shape," says the official.
But this version has to negotiate many potholes. For example, in a recent report, the Comptroller and Auditor General noted that as of March 2015, as many as 3,388 eligible habitations under the national rural roads scheme were still unconnected.
"Even after 14 years of the commencement of the scheme, 17 per cent of the eligible habitations were yet to be provided connectivity by all-weather roads," the CAG report said.
Ease of doing business is another area that state government officials love talking about. For example, the state has eased or amended 18 labour laws to make it easier for businesses. "investors are coming to the state," says V L Kantarao, commissioner, industries.
"Sectors like textiles have become promising in Madhya Pradesh during the past few years. For example, as many as 10,000 trainees have been absorbed in the sector. Of the Rs 5 lakh crore expressions of interest we received during the Global Investors Summit 2014, we have seen Rs 1.89 lakh crore on the ground. Yet, we need to be more aggressive."
State Power Minister Rajendra Shukla says Madhya Pradesh has crossed 13,000 megawatt (Mw) in power availability and by 2020, would have 18,000 Mw.
Many, however, do not share that optimism. "Exaggerated claims", says Yogesh Goel, who runs a small-scale engineering unit in the Govindpura industrial area of Bhopal.
"The present economic stagnancy is the worst in seven years," he says.
After the coal scam, he alleges, many big projects came to a standstill, hitting the nearly 1,000 small-scale units at Govindpura.
"The state government is focused on large scale industries in the global investment summits. We are not competitive in the present environment," he said.
Swaraj Abhiyan, a social organisation, recently conducted a survey in seven districts of the Bundelkhand area.
It said there was near-famine, with only five per cent of villages in the region reporting ongoing work under the national rural jobs guarantee scheme.
A third of Bundelkhand families couldn't have two proper meals a day, it said.
The truth obviously lies somewhere in between.